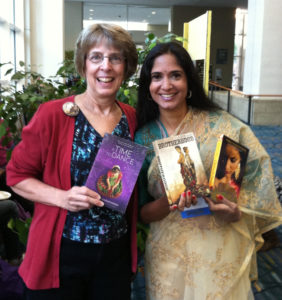 How's this for serendipity? When I met conference keynoter Padma Venkatraman at the James River Writers conference in October 2016, she recognized my book. She'd read it! Turns out her book had also received the NCSS Notable Trade Book Award. We were award-sisters! And right then, I knew I had to interview Padma for my blog.
I've just read her multiple-award-winning novel A Time to Dance about a girl who dreams of dancing again after losing a leg in a bus accident. It's intense, at times funny and sad, soul-touching, heart-warming—all in all, a great read.
A.B. Westrick: Welcome, Padma!
Padma Venkatrama: Hello! Thanks for having me.
ABW: Your keynote address was inspirational, and I'd love for you to repeat a bit of what I heard you say at the James River Writers conference. Would you please talk about "going method"—the way you approached the task of writing about a character who'd lost a leg? It was so interesting. What did you do, and how did it influence your writing process?
PV: I'd like to begin by sharing with your readers the incident that inspired A Time to Dance. On a trip to India in my late teens, I was bitten by a viper, one of the most poisonous Indian snakes.
ABW: Oh, no!
PV: Oh, yes! It's a miracle I survived without having to have my leg amputated. That experience—of nearly losing life and limb—solidified my sense of spirituality (which isn't necessarily bound to any religion). Read More