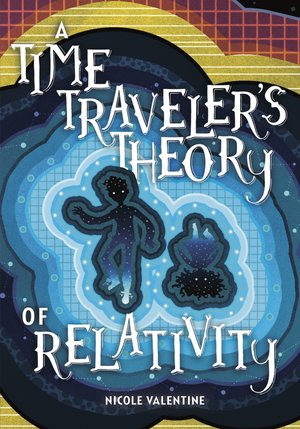 Last month, our protagonist realized she "could believe in science without giving up on magic." This month, we're looking at science vs. magic again! (If you loved that one, you'll love this one, too!)
In her debut middle-grade novel, A Time Traveler's Theory of Relativity, Nicole Valentine creates a marvelously complex story line in which the stakes get raised again and again… and again. It's a really fun read.
And head's up! The book is coming out from Carolrhoda Books (Lerner Publishing) on October 1 and I have the author here to tell us about her process. But before we get to the interview, let me add that one lucky reader will receive a copy of A Time Traveler's Theory of Relativity and a matching enamel pin, saying, "I'm a Traveler." The deadline to enter the giveaway is the release day: Tuesday, October 1, 2019. Hop to the end of this post to sign up for the giveaway, then come back to learn a bit about the story behind the story.
A.B. Westrick: Welcome, Nicole! I'm so glad to catch up with you and hear about your process in writing such an inventive debut novel.
Nicole Valentine: Thank you! And thank you so much for having me on your blog. I'm so honored that you read the ARC.
ABW: It was great to get a copy in advance! So let's start with the strange voice at the opening. (But no spoilers here! Readers have to get the book to figure out who's talking.)
NV: Yes, no spoilers here! No worries!
ABW: You open with, "We lie to ourselves when necessary. Some of us are more convincing than others." Ooooohhh. I love that opening. And of course, later, from time to time, this haunting voice returns in brief interludes that lend drama to the story. My question is whether this was always your opening, and did you plan the interludes from the get-go? Or did you develop this voice after writing Finn's story?
NV: Initially, I had that character narrating the entire novel, similar to E. L. Konigsburg's Mixed Up Files. In my many revisions, I moved away from that entirely and went to third person close. It was right for the pacing of this story. Still, I found myself missing my mysterious, omniscient narrator and wishing I could have her back at very specific times. I reminded myself, I am the author. I have that power! And that's when I came up with the structure.
ABW: The power to craft a story however you want. Ahhh, yes. Good stuff!
Now, early-on we learn that almost-13-year-old Finn had a sister who died, and "his very existence was a constant reminder of what [Mom had] lost." He was the one left behind, the one who remained. I was particularly moved by Finn saying that "remainders live an extra careful life, never wanting to make [their] parents relive the pain." I found that line really poignant, and I wondered where that insight came from. It's rich. Or perhaps, I could put the question this way: do you say this from experience? Where do you see yourself in the characters you've crafted?
NV: I'm so glad that spoke to you. It's an emotion I grew up with and I wanted to explore in this novel. I wanted to use time travel as a metaphor for death. Losing someone in the timeline is similar to having someone pass away. When a loved one dies, you become a Traveler. You go back in time in your head to see them, or you bring them forward in your imagination to show them your life as it is today. My father died of a sudden heart attack when I was in middle school. I've been a Traveler for a very long time. While I didn't lose a sibling like Finn, I lost a parent and I know how grief can change the dynamics of a family.

ABW: Oh, I'm so sorry to hear that. And I'm so impressed with the way you wove your emotions into the story.
NV: Thank you, that's what we as writers do, right? Growing up, I became distinctly aware that I couldn't add any more grief to our delicate family equation. I felt that if I let anything happen to me, by being careless or risky, it would open a wound that was already too deep. As a child, I made the mistake of thinking it was my burden to do all the math. Grieving children can do this, they take on a lot of emotional responsibility.
ABW: The math, as in keeping the family equation balanced?
NV: Exactly. And I think this is very common for children when something tragic happens in a family. You'll often find siblings doing this. If one creates difficulty or trauma at home, the other will try to counterbalance it.
ABW: In addition to this sort of counter-balancing happening when someone dies, I think it also happens when a family member is seriously ill. Siblings might not talk about the ill one possibly dying, but they worry about it.
NV: Absolutely! All emotional hardship in a family ripples outward and its effects can be imperceptible in children. I wanted to explore this through Finn, and maybe show my readers who are experiencing this that even when the adults around you seem unable to cope, they can still be there for you. You don't need to balance the universe all by yourself.

ABW: That's a great insight.
And here's a line I loved: "If he could believe in time travel, making the leap to believing in himself shouldn't be all that hard. Still, it was. Infinitely hard." This line invites readers to sympathize with Finn. I'd love to hear a bit about your process in crafting him. From what you said earlier, I can tell that there's a little bit of you inside Finn, but is there more than a little bit? Is he all you? How much of Finn is based on you or on someone you know, and how much is purely fictional?
NV: Finn is very much an amalgam. He is part-fiction, part-best people I have known in my life, and a little bit of me. He is a true humanist, someone who feels empathy for others and can put himself in their shoes even when it is infinitely hard to do. He has a hard time getting out of his head and an even harder time believing in himself, but he believes in those he loves without hesitation.
ABW: And that really comes through in the story.
Now, we can't end without talking about time travel! Lots of authors have imagined time-traveling scenarios, each giving their stories a set of rules and internal logic. In your novel, for example, a rule of the road is that travelers must find "nodes" in time. There is a risk that a character will close and lock a "node," trapping another traveler in time. What a brilliant dramatic element! Tell me about your process in coming up with this idea. Were there other "rules of the road" that you considered and scrapped?
NV: You ask really great questions!
ABW: Oh, thank you. I love learning about the way a writer brings a story to life.
NV: I think I'd have to go back through years of notes to answer your question in detail. Yes, there were many revisions on my time travel logical ruleset. It's an important part of the plot and like any magical worldbuilding, it must be consistent and logical. I based it on real elements of quantum physics, and then took it into the realm of science fiction. I had great fun in doing it. I researched a lot of cutting edge quantum theory and talked to some astrophysicists in the process. When I was revising, I gave the novel to some beta readers who weren't writers, but were really good gamers. Gamers are brilliant at breaking logical systems. If you want to test yours, they are your people.
ABW: If my son-the-gamer reads this, he will smile. Thank you so much for doing this interview, Nicole!
NV: Anytime! In-depth, heartfelt discussion about time travel? I'm your woman! I really enjoyed it.
ABW: Readers, if you want to learn more about Nicole, you can find her at her website, Instagram, Twitter, and steaMG: The Middle Grade Sci-Fi Authors Alliance. And if you do check out her social media links, be sure to say so in the Rafflecopter below. Each entry is a chance to win a copy of A Time Traveler's Theory of Relativity and a matching enamel pin, saying "I'm a Traveler." (You can log multiple entries by returning to the Rafflecopter on different days.) On October 2, Rafflecopter will randomly choose a winner, so be sure to enter by October 1, 2019, at 11:59 PM.