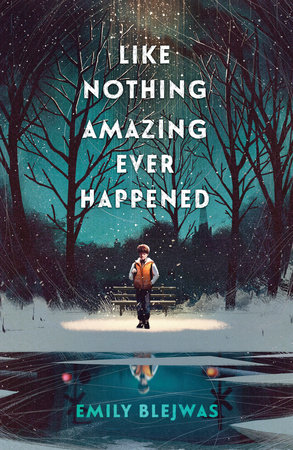 Moments in Like Nothing Amazing Ever Happened are so real and reminded me so much of my husband that I kept blurting out passages, and every time without fail, he'd nod. He'd smile. He knew that character, that exact moment. He'd been there—he had survived the 7th grade.
Emily Blejwas nails what it feels like to be in middle school. Like Nothing Amazing Ever Happened came out from Delacorte Press in 2020, and I'm thrilled that Emily is here on the blog today to talk about the story and her writing process.
But first, the GIVEAWAY. One lucky reader will win a copy of Emily's book. Hop to the end of this post for giveaway details, then use the hyperlink to pop back here and read our interview. The deadline to enter is Tuesday, October 19, 2021, at 11:59 PM.
A. B. Westrick: Emily, welcome to my blog!
Emily Blejwas: Thanks for inviting me!
ABW: Let's start with your title. At one point (page 70) the main character thinks:
I smile, in the dark. The moon is tiny and white outside my window, like nothing amazing ever happened to it. Like it was never a blazing ball in the sky reflecting all the sunrises and sunsets of this planet. But I know better. I was watching.
"Oooh, there's the title!" I thought while I was reading. Love it! When you sold the manuscript to Delacorte, was that your title? Early-on, did you have this title in mind, or did it surface late in the process?
EB: I always struggle with titles and it took a very long time to settle on this one. I re-read the final manuscript several times just looking for title options! I probably still have my handwritten list of dozens of titles that my editor and I kicked back and forth. We chose Like Nothing Amazing Ever Happened at the last second.
ABW: Well, you chose a good one. Now tell me about your protagonist, Justin, who sometimes gets called "Monk" and at other times, "Cease-Fire." Where/how did you come up with him and these nicknames? What was your starting point for his character—his particularities?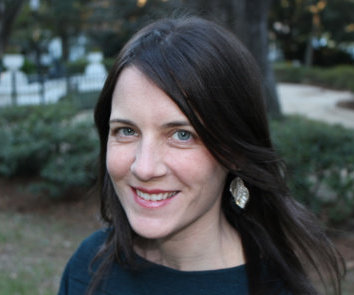 EB: When I began, I knew only that I wanted the main character to be a boy and to be struggling with something that set him apart from his peers. Then I just started writing and the details filled in as I went along.
Writing is a strange and magical process that way. To me, it feels like Justin already existed and I learned about him bit by bit. Sometimes he would even surprise me.
The nicknames emerged the same way—Monk because Justin is a serious, thoughtful kid, and his older brother pays close enough attention to know that about him. "Cease-Fire" popped up in a random moment but stuck because of Justin's budding friendship with Brandon, who appears an unlikely ally on the surface, but I love unexpected friendships, in fiction and in life.
ABW: Oh, yes, Brandon turned out to be quite an unexpected ally!
Now shifting gears, part of the plot involves Justin wanting to learn the details of his dad's death. After his friend tells him about Schrödinger's thought-experiment (the now-famous bit about a cat and a box), suggesting that our "distinction between space and time is false," Justin comes to appreciate that multiple possibilities could exist simultaneously. This is heady stuff!
So my question is: are you an armchair physicist? A lover of science? When you started writing this story, did you know you'd weave in some principles of physics?
EB: I started this story (as I always do) with a seed of an idea and very little knowledge about where it would go. Mark Twain has a great quote about writers doing this:
In the beginning he is only proposing to tell a little tale, a very little tale, a six-page tale. But as it is a tale which he is not acquainted with, and can only find out what it is by listening as it goes along telling itself, it is more than apt to go on and on and on till it spreads itself into a book.
I'm not sure that's every writer's experience, but I love writing that way because it's a wild, unpredictable ride.
As for physics, I'm fascinated by string theory and was listening to a lot of podcasts about physics while writing this book, so that material fell in. It was a natural fit for Justin because when you lose someone, you ask the big questions.

When I talk to students about writing, I encourage them to be curious more than anything, because everything you see and learn and hear during the day could potentially fall into your writing. You need input to have output, and the more diverse the input, the more interesting and complex the output will be.
ABW: So true—how we need input to have output.
A subplot in the story that I especially enjoyed was Justin doing a history project that exposes the way his town wronged the Dakota people. His project gets folks to begin to tell the truth about their town's history, elevating one of the story's themes—that we need to "honor the history all around us, every day." Did you know from the get-go that Justin's story would include this theme, or did it emerge during your writing process?
EB: It definitely emerged. I did a lot of reading on Dakota history, Minnesota history, and the Gulf War, which was fantastic because I love American history and research. That's another really fun part of writing—the little rabbit holes you get to dive down along the way. Plus, because the book's setting is based on my hometown, I learned my own town's history alongside Justin. I was never taught Dakota history in school in the 1990s. I hope that's different now.
ABW: I hear it's different now. We can hope!
Okay, before we wrap this up, I have to share one of the lines that I read out loud to my husband. It was this (page 77):
Mr. Sorenson says the worst thing teachers ever say, which is "Everyone, partner up."
Hahaha. That cracked me up because it captures my husband's personality, and perhaps that of our kids (three of them, anyway; the fourth is an extrovert). I'm an extrovert in an introvert-heavy family. What about you? Introvert? Extrovert?
EB: Whenever I take those tests, I'm always right in the middle. I lean introvert (especially the older I get), because I draw energy from being alone and from quiet. But I have a husband and 4 kids and 2 dogs and 4 chickens, and I love the bustle and craziness that a full house brings! I wouldn't trade that for anything.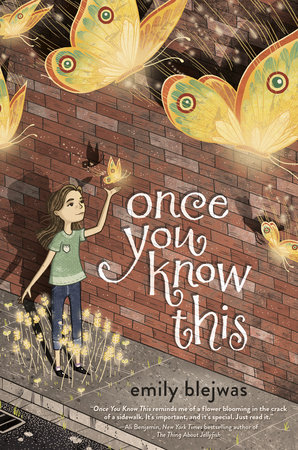 ABW: I remember those days! (Except for the chickens, that is; we had a large dog, 2 cats, a hamster, a parakeet, a snake, a rat, and a hermit crab.)
Finally, how long did it take you to write Like Nothing Amazing Ever Happened? Could you share a bit about how you get your writing done? Are you an early-bird or do you burn the midnight oil? Do you have rituals that help you focus?
EB: I work full time, so I squeeze in 45-60 minutes of writing each day when I'm working on a manuscript. It was a frustrating method at first (#adultingishard), but I do produce better work that way. When writing my first book, Once You Know This, I wrote from 1:00-2:30 PM every day while my two older kids were at school and my two younger ones napped. The story is told in little sections and a reader once asked if that was a literary device. Nope, just naptimes!
I take long breaks (months) between manuscripts because it takes a while to refill my creative coffers (via books, podcasts, life in general). I prefer to write in the morning, I don't write on the weekends, and I definitely need both quiet and coffee. I tend to write first drafts in about 3 months, but that is followed by many months of revision!
ABW: Oh, I hear you on quiet, coffee, and revisions! I actually love the revision process, but that's a topic for another day. Thank you so much, Emily, for doing this interview!
EB: Thank you. I really enjoyed it!
Hey, Readers, if you want to know more about Emily and her books, you can find her at Facebook, Twitter and Instagram. For your own copy of Like Nothing Amazing Ever Happened, be sure to enter the giveaway! Details here:

For a chance to win a copy of Like Nothing Amazing Ever Happened, do one or more of the following:
leave a comment below (comments need not be long), or
tweet (or retweet) about this giveaway (tag me @abwestrick so I'm sure to see your tweet), or
email me at abwestrick (at) gmail (dot) com with the subject line, BOOK GIVEAWAY.
Here's a sample tweet:
I enjoyed reading #author @abwestrick's in-depth #interview with @EmilyBlejwas about her #middlegrade novel LIKE NOTHING AMAZING EVER HAPPENED! Sign up for the #giveaway by 10/19/21. https://bit.ly/EmilyBlejwasChat
The deadline to enter is Tuesday, October 19, 2021, at 11:59 PM. On Wednesday, October 20, I'll put all the entries in a list and my handy-dandy random number generator will select the winner. I'll post the winner's first name below.
Good luck!
The giveaway winner is Jennifer H, an ELA teacher who messaged me, "Thanks so much. My students will love it!" Ahhh, it warms my heart when my giveaways end up in the hands of educators, which means, of course, that they end up in the hands of young readers, too. Congratulations, Jennifer!