Brotherhood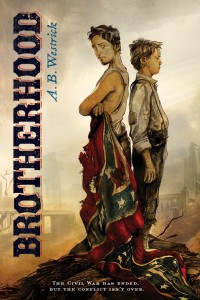 An ALA/YALSA 2014 Best Book for Young Adults
Winner of the Virginia Library Association's 2014 Jefferson Cup Award
Winner of the inaugural Housatonic Book Award for Writing for Middle Grades and YA
Winner of the Jane Addams Children's Book Award 2014 Honor
Winner of the National Council for the Social Studies 2014 Notable Trade Book Award
A Junior Library Guild selection
An Oregon Reader's Choice selection for 2015-16, and a 2016-17 Virginia Readers' Choice selection
Watch the book trailer here or on YouTube.
The year is 1867, and Richmond, Virginia, lies in ruins. By day fourteen year-old Shadrach apprentices with a tailor and sneaks off for reading lessons from Rachel, a formerly enslaved teenager, at her school for African-American children. By night he follows his older brother to the meetings of a brotherhood, newly formed to support Confederate widows and grieving families like his. As the true murderous mission of the brotherhood—now known as the Ku Klux Klan—emerges, Shad is trapped between his pledge to them and what he knows is right. In this unflinching view of the bitter animosity that stemmed from economic and social upheaval in the South during the period of Reconstruction, it's clear that the Civil War has ended, but the conflict isn't over.
Listen to the author read BROTHERHOOD's first chapter:
Want to walk the streets the BROTHERHOOD characters walked? Click here for directions and QR Codes to listen to audio recordings of me reading sections of Brotherhood at seven locations in Richmond, VA.
What People Are Saying about BROTHERHOOD:
"A boy struggling to come of age in a ruined world reaches in all the wrong directions for being and belonging in this story that uncovers a trove of hidden history." Richard Peck, Newbery-winning author of A Year Down Yonder
"This story is about allegiances—between brothers, friends, Klansmen. Set in the South during one of our country's most trying times, post-Civil War Reconstruction, this novel gives us a crystal clear look at the costs exacted by allegiances and the dangers that they contain. This is a heart-stopping tale told through the eyes of Shadrach Weaver—a boy at the beginning of the story, but not by the end." Kathi Appelt, Newbery Honor-winning author of The Underneath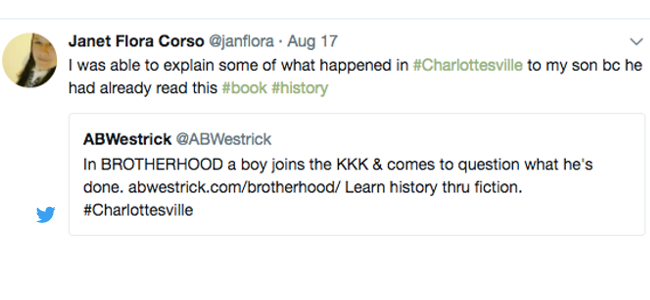 "…an impressive debut…" Publishers Weekly
"Great historical fiction always feels like a gift… All the characters, dialogue, and action support each other deftly and with no filler." VOYA Magazine *starred review*
"From the perspective of a curious, compassionate young man caught up in Klan violence, this coming-of-age story will spark fruitful discussions about race, identity, social pressure and loyalty." Kirkus
"Westrick creates in Shad a character of extraordinary complexity… This is a view of the post–Civil War South that doesn't often reach middle-grade readers…" The Bulletin of the Center for Children's Books
"Westrick does an excellent job of re-creating post-Civil War Richmond… A welcome addition to classroom discussions." School Library Journal
"This compelling coming-of-age story uses great characterization and descriptive, illustrative writing to provide a glimpse into life in the post-Civil War South." Library Media Connections

"Shad's spot-on dialogue and enlightening sentiments will be studied and savored for years to come." BookPage
"… a remarkable personal journey that will hold readers enthralled… Author A.B. Westrick is to be congratulated for this daring novel, and exploration of lives – of both victims and tormenters… Brotherhood is beautifully written and completely engaging." Long and Short Reviews
"A story about a difficult and often ignored time, told with honesty and grace.  An extremely impressive debut." Kimberly Brubaker Bradley, author of Jefferson's Sons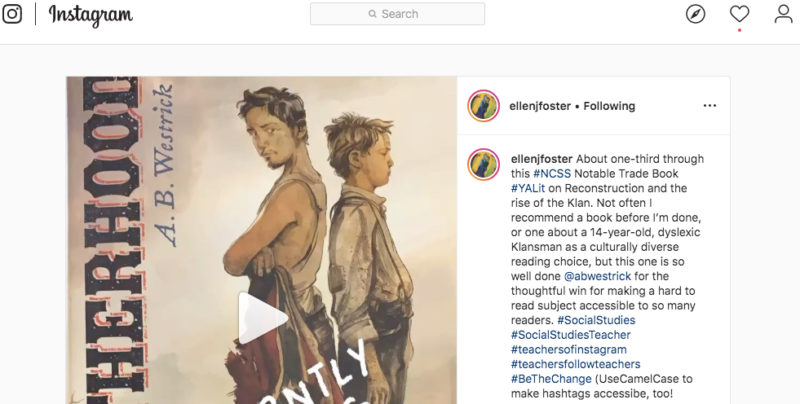 "Westrick is… a master at setting. The reader is set firmly in post-Civil War Richmond, Virginia. She shows the conflict from the Southern perspective, one we rarely see. It's real, not sugar-coated or glossed over. This story and its characters will stick with you long after [you've finished] reading." K. A. Barson, author of 45 Pounds
"I couldn't put it down… The author does a magnificent job portraying average people caught up in events beyond their control during a time of unspeakable hardship, hunger, and violence… The writing is superb!" Mary Miley Theobald, author of The Impersonator
"… a powerful lesson in situational ethics; how our upbringing, world events, and personal ties shape us, and how we struggle to distinguish right from wrong in our own minds and hearts." Rosemary Rawlins, author of Learning by Accident
"I've taught some great novels in my classes, and now I'm teaching Brotherhood because it fits with everything the 7th grade is doing. We start the year post-Civil War, and Brotherhood gets us talking about the Ku Klux Klan as a terrorist group, and then we go all the way through Nazi Germany to today's Al Qaida threat. Reconstruction is hard to teach, but Brotherhood helps kids think about the people and the relationships. It gets them to look at the sorts of economic, political and social conditions that encourage hate groups to form. It's just a great book for kicking off discussions about bullying and conflict. And the story is great. There's just so much you can do with Brotherhood!"
Joshua Forbes, 7th grade Social Studies/Language Arts teacher
G. W. Carver Middle School, Chester, VA
…while presenting a concurrent session at the
VA Association of School Librarians Conference
Williamsburg, VA, November 8, 2013
Publishers Weekly included Brotherhood on their list of Military Books 2013: "Helping Kids Make Sense of War," posted on August 16, 2013.
The premiere issue of Shelf Unbound's "Middle Shelf: Cool Reads for Kids" (Fall 2013) featured an excerpt from Brotherhood on page 17.
Cover illustration copyright (c) Greg Ruth 2013.
Hardcover: ISBN 978-0670014392
Paperback: ISBN 978-0142422373
A huge thank-you to my agent, Leigh Feldman (who was at Writers House when she signed me on, and now has her own agency, Leigh Feldman Literary) and editor Regina Hayes for seeing promise in this novel and helping me get it out into the world!