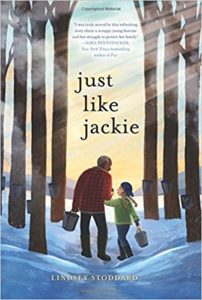 What a great debut from Lindsey Stoddard! When I read Just like Jackie, I couldn't wait to feature Lindsey and her writing on my blog.
In addition to doing this interview, I'm giving away one copy of Just like Jackie! For a chance to win, hop to the end of this page and fill out the form. Then come back, enjoy the interview, and glean some craft-of-writing insights. What Lindsey says about hearing a character's voice is a fabulous tip. Deadline to enter the giveaway: July 25, 2018, at 11:59 PM.
I first met Lindsey at Vermont College of Fine Arts. Back then she was teaching middle school (my all-time favorite age group) while drafting stories and working on her MFA. She now writes full time, or as full as she can with two little ones in tow.
A. B. Westrick: Lindsey, welcome to my blog!
Lindsey Stoddard: Hello from Vermont!
ABW: Ah, Vermont… I'll bet it's gorgeous in New England right now—best place on earth in the summer. I guess maple syrup season is awesome, too, but we'll get to that in minute.
First let's talk about your feisty and oh-so-lovable heroine, Robbie. I read in your interview at Through the Tollbooth that part of your writing process involved channeling your anger as a child. Robbie's anger comes through with honesty, and my question is: how much are you and your protagonist alike? Did you have to learn anger-management techniques like she does in the novel? Were you also a regular in your guidance counselor's office? Where does the real Lindsey end and the fictional Robbie begin?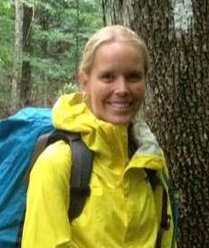 LS: Robbie is holding onto much more anger than little Lindsey ever had to. I would have been mortified if ever called to the principal and I certainly wasn't a regular in my guidance office. I used that punch-in-the-nose moment from my own childhood as my anchor because I believe most middle grade kids have felt that kind of rage. It's an age when kids are really honing their sense of justice, what's fair and right, and what's not. That moment in my childhood when the neighborhood boy hit the bird nest out of the tree with his whiffle ball bat brought out that feisty side of me, and that's where Robbie was born.
ABW: It fits with the adage, "write what you know." But I want to ask about what you didn't know. What parts of this story required research? Are you as adept at car repair as Robbie is? Are you a big baseball fan? Can you recite baseball stats as easily as counting to ten?
LS: I wish I knew as much about cars as Robbie does! Growing up my dad worked for Toyota and I used to love visiting the dealership and watching the mechanics in the service department work on cars. I always thought it would be such a cool thing to know how to do, so I gave that skill and passion to Robbie. It required a bunch of research and lots of calls home to my dad to make sure I got it right. I also grew up in a big Red Sox loving family, so I know baseball very well—not recite-stats-as-easily-as-counting-to-ten well—but well enough to know the game and the players, etc. I had to research and check each one of those statistics that Robbie knows so easily.
ABW: I noticed that when you needed a metaphor, you'd bring in images from baseball or car maintenance, and I thought the images worked beautifully in the story. They felt organic—true to Robbie's character. Did these images come to you while writing your first draft, or were they part of the revision process? Or let me ask the question this way: when you write, do some elements of a scene come first and others later? Tell us a bit about your process.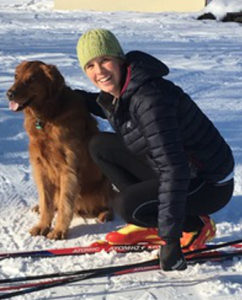 LS: The first part of a book for me is hearing the character's voice in my head. I don't even take out a pen until I hear it strongly and consistently and until I even start talking like her. Then I move to the notebook and write from her POV until it's really clear. Then I start in. Those baseball and car metaphors are just the way Robbie thinks and talks. They were there from the first draft.
ABW: Oh, that's great. You just gave me the title for this post. Love it!
At its heart, Just like Jackie is a story of family and a child's desire to keep hers from falling apart. You invite readers to glimpse multiple families in different configurations, facing various challenges. When you set out to write this novel, did you know the story would go in this direction? Or did you begin simply with a girl and her grandpa, and find that along the way, the larger theme of family emerged?
LS: It started with Robbie and Grandpa. I focused in on their relationship, what makes it special, what they share, how they communicate, etc. Working on that family made me ask the question of other families represented in the book. What's below the surface there? As I began crafting secondary characters, I became engaged in their situations too, until it became a theme—family is who you get, but it's also who you find and who you keep. And that all families, no matter what they look like, are built from the same stuff, love and trust, support and resilience.
ABW: Nice. I like how your theme emerged during your process. How long did it take you to write Just like Jackie? And what can you tell us about the novel you have coming out next year?
LS: I have heard it said that an author has been writing her first book her whole life. That is certainly true for Just like Jackie. When I sat down to write Robbie's story it took me about a year, but the seeds were planted long ago when I was growing up in Vermont, sugaring with my grandpa, admiring my math teacher's old Green Chevrolet truck, "CHE ROLE," watching the Red Sox with my family, peeking into the service department at White River Toyota, and witnessing my Nana, Gloria's, direct, clear, no-nonsense determination and manner.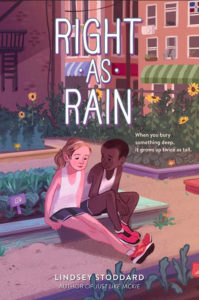 Right as Rain (coming in February 2019) is the story of a girl whose family is in the wake of grief and loss when they make a sudden move from Vermont to the Washington Heights neighborhood in NYC. There, Rain decides she has to fight to keep her family together in the only way she knows how, with facts and figures and research, and in the process, finds that she has a lot of people on her team.
Just as in Just like Jackie, Right as Rain is a book about finding your people, and hanging on to them no matter what.
ABW: Sounds great. Can't wait to read it!
Let's wrap up with words of wisdom for aspiring authors. What insights would you share with someone who aspires to write a novel?
LS: Every day is a writing day! Try to get your words in, try to get your butt in the chair, but know that if you don't, it's still a writing day. Listen. Remember. You never know what will spark an idea, or fix an issue mid-manuscript. Your process is your process until it has to change, which it will again and again. Before I had babies I was a notebook jotter, a scattered pages across the cafe table writer (and I'm sure I will be someday again!) but now, my time is tight and I'm drafting more in my head in anticipation of the moments I get with my laptop. It's not easy to get your words in every day, it's not easy to get your butt in the chair, and it's not easy to have to revise your process to fit your life at that moment—but every day is a writing day.
ABW: So true. Yes! Every day. And take joy in the process. Thank you again for this interview, Lindsey.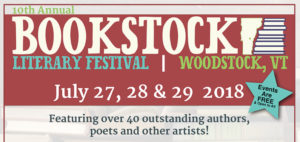 Readers who want to know more about Lindsey can check out her website, find her on Twitter, and head to Bookstock in Woodstock, Vermont, on July 27!
For a chance to win a copy of Just like Jackie, sign in and enter below: