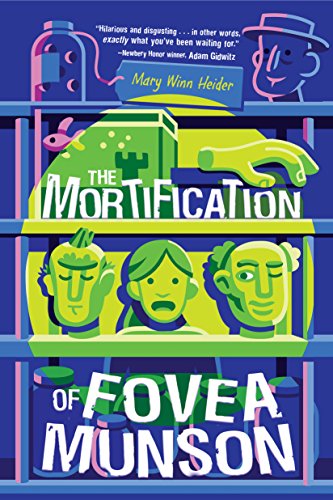 Look what's out in paperback tomorrow (June 4)! The Mortification of Fovea Munson by Mary Winn Heider. It's LOL funny—the zaniest middle-grade novel I've read in years. Author Varian Johnson described it as "equal parts screwball comedy, coming-of-age story, and tearjerker," and Adam Gidwitz called it "hilarious and disgusting… in other words, exactly what you've been waiting for."
And I'm thrilled to have the author here for an interview! Plus, in celebration of the paperback release, I'm doing a book giveaway. Hop to the end of this post to sign up for a chance to win a copy of The Mortification of Fovea Munson, then come on back to hear what Mary Winn Heider has to say about writing her debut novel. Deadline to enter the giveaway: Tuesday, June 11, 2019, at 11:59 PM.
A.B. Westrick: Hello, Mary Winn! Welcome to my blog.
Mary Winn Heider: Woohoo! Thanks for having me!
ABW: I don't want to ask the same questions you've already answered (I loved the interview Julie Rubini did with you at From the Mixed-Up Files), but we have to start with the bit about you having worked as a receptionist in a (cough, cough) cadaver lab. Okay, so clearly, that experience influenced this novel.
MWH: Oh, for sure. My cadaver lab adventure was the randomest. I ended up working at the lab by accident, and as soon as I saw what an absurd-also-serious-also-bonkers-also-fascinating place it was, it was all I wanted to write about. So I wrote the first draft (plus a few revisions) while sitting in that basement office, in between ordering body parts and assembling suture kits. Eventually, I wound up with more and more responsibility, and the version of the job where I had a lot of down time vanished. But for a long time, I was able to write at the lab, which was awesome for so many reasons.
ABW: Ordering body parts. Uh-huh. I need to pause on that for a second. Yeah. Ordering body parts. That part of the story was great!
Okay, back to the genius of your book—yes, I said genius—beyond the zany humor, which still has me smiling. I loved the way you brought all the details together at the end. You tied up ends I didn't even realize were loose! For example: tampons in a drawer and frog guts in a middle school lab. You are a master at storytelling. So my question is: how many of these details were in your initial draft, and how many got added later, during revision?

MWH: Ha! So…I didn't map any of it out beforehand. And in the end, there were a lot more setups and payoffs than I thought I was writing even as I was writing.
My favorite thing is when I'm writing a scene and a character needs something and I realize the answer already exists in the story. So, for example (this includes the mildest of spoilers)—when I was filling Whitney's office drawers, I tried to make the detritus distinctively Whitney's, instead of generic office stuff. I thought about everything she might want in her desk drawers, and I included a whole bunch of tampons just rolling around in there. Whitney didn't strike me as a person who would hide her tampons or be delicate about them. And then, a little bit later when I was after some kind of incendiary material, I had my character look around, and hey presto. We were both pleasantly surprised to find exactly what we needed.
ABW: I was totally surprised. And in awe of your craft! Genius. Really. Not that I've ever set tampons on fire, but when I read that part, I could see them burning.
MWH: Details like that are the most fun! I guess really, it's about mucking around and creating potential. Not necessarily with an eye to how I can come back later to whatever that particular detail is, but really simply, by honoring the world and the characters. If only I were better at plotting, I might be able to plan that stuff! As it is, it's like a ton of little Chekhov's guns that I'm tucking in everybody's pockets and then I'll see which ones go off.
ABW: Hahahaha. That's great.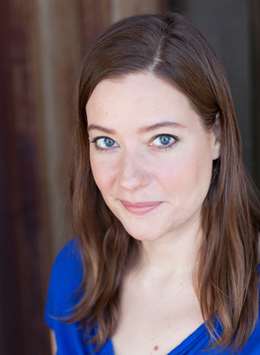 MWH: Total theater nerd here. But also, to be fair, some moments are definitely reverse-engineered. Sometimes I'd think, Hey, I can seed this organically so it's not super random when it appears.
You also mentioned the frog from the science class. He came along in a much later draft. Early on, there were no classroom scenes with Fovea, and when I went to add one, I wanted to make it feel like it fit in thematically. I tossed in the frog, and I won't spoilerize him too much, but I'll say that he surprised me, too.
ABW: That frog—too funny. Not at first, actually, but in the end, I laughed out loud.
So it sounds like the novel went through a lot of revision. How different does your final version look from your first draft?
MWH: The final version is a lot longer but also way more focused. There was originally a wild goose chase sequence with food trucks that my wonderful beta reader Rachel Hylton gently suggested was irrelevant and ought to be cut. But Grandma Van wasn't in the earlier drafts, and neither was the museum of holography—both of which feel like crucial parts of the story now.
I love cutting. I love breaking things open. They are the most exhilarating parts of revising for me.
ABW: I've never before heard a writer call the revision process "exhilarating." I love that! And kudos to you for listening to your beta reader and taking her feedback to heart.
Now, let's return to the early stage. When you set out to tell Fovea's story, where did you begin? Did you do character sketches? What was your entry point into this whacky story? What was the first scene you wrote?
MWH: I'd decided I was going to set a story in the lab, and then I gave myself some space (not in front of a blank page) to think about how it would open and what the voice would be. And out of the blue, I heard Fovea's voice, introducing herself as the bouncer of the cadaver lounge. That bit became the opening—but you haven't read it because it doesn't exist anymore! It wasn't right, ultimately, but it was exactly what I needed to get into the story. It was all voice, and that set the tone for me.
ABW: Oh, interesting. Thank you for sharing that. You've reminded me of a post I did years ago about a character who helped me get into a story, but later I cut her from the manuscript. It's helpful to hear that you cut an early version of the opening. Good stuff. It's all part of the process. What other insights or words of wisdom do you have for aspiring novelists? What might you tell them about the craft?

MWH: I'd tell them what I needed (and still need) to hear! The best thing they can do is keep trying to fail better. I didn't really understand how to do that until I went to grad school at VCFA. I failed at so much there! It was the best.
ABW: The MFA program at VCFA is outstanding!
MWH: I think being cool with failing was the moment I actually became a serious writer. Because then it wasn't about the failure anymore; it was about what I learned and how I could do better next time.
ABW: Oh, great answer. Brownie points! Yes, fail better. (And a shout-out to Samuel Beckett for first coining that phrase. "Try Again. Fail again. Fail better.")
MWH: Heck yeah. Theater nerd to the death.
ABW: Haha. Okay, before we wrap this up, I have to ask about your parents. You open The Mortification of Fovea Munson with your main character bemoaning her parents' dark humor, and I noticed that you dedicated the novel to your parents. So tell me… were they the source of your sense of humor? (Or the cause of some middle school moments of mortification?) How did growing up with Karl and Malie influence your writing?
MWH: Oh, there is so much of my parents in the book! They are sneaky hilarious, and my brothers and I all got a lot of our sense of humor from them—so many of my favorite moments are sitting around the kitchen table with them, all of us laughing until we cry. I'm sure there were also some mortifying parental moments in there, because that seems pretty essential to growing up, but the truth is, I was the kind of kid who really fixated on my own disasters, so the mortifying times that stick out to me now are the ones I was responsible for myself.
ABW: Some day I want to meet your parents. Okay, final question. How long did it take you to write this story, and what are you working on now?
MWH: It was six years from beginning to end. The first three and a half years were pretty focused, and after that, it was mostly copyedits and waiting. These days, I'm working on another middle grade book that takes place in the same Chicago-not-Chicago world.
ABW: Thank you so much for doing this interview, Mary Winn! I learned a lot and laughed a lot.
Readers who want to know more about Mary Winn Heider should check out her website, and follow her on facebook, twitter, and instagram. And if you do check out her social media links, be sure to say so in the Rafflecopter below. Each entry is a chance to win a copy of The Mortification of Fovea Munson. (You can log multiple entries by returning to the Rafflecopter on different days.) On June 12, Rafflecopter will randomly choose a winner, so be sure to enter by June 11, 2019, at 11:59 PM.