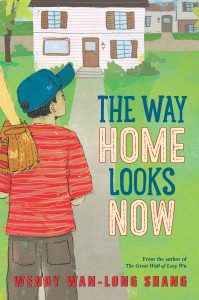 What a joy to feature Wendy Wan-Long Shang on my blog today! Wendy is the author of the award-winning novel The Great Wall of Lucy Wu, and tomorrow (April 28th) her second book for young readers, The Way Home Looks Now, comes out from Scholastic. Welcome, Wendy!
A.B. Westrick: This is a fabulous book—not only beautifully written, but so compelling. At times it's sad, at other times funny, and more than once surprising (but no spoilers here!). Let's talk about the beginning. I'm interested in the way you chose to start the story, or as I like to think of it, the place where you invite readers to enter in.
We meet the protagonist, Peter Lee, as he arrives home to find something very wrong with his mother, but it's a wrongness he's come to expect. Readers don't understand at first, and we're curious, and by the end of chapter three, we get it: there's been a death in the family. My question for you is this: was this opening always your opening? How did you come to settle on this particular scene for chapter one?
Wendy Wan-Long Shang: I had to go to my drafts folder for this one, and I'm so glad you asked because I had forgotten about some of my early drafts until now. In my earliest attempt, I tried to work completely chronologically, so that the death happens in "real time." What I discovered, though, was that I wasn't getting quickly enough to the heart of what I wanted to talk about—how Peter's relationship with his father changes.
In Chapter One, Peter and his sister are locked out of the house, even though his mother is inside. I developed this opening because I wanted it to serve as a sketch of Peter's situation—he is literally shut out of his mother's life, and he wants very much to re-connect with her, while at the same time wanting to protect his sister from getting hurt.
ABW: Nice. In the book, I really liked the way you showed his concern for both his sister and his mom. Early-on, I thought the book would be about grief, and while that theme is certainly a significant element, this story isn't really about grief. It's about baseball!
You reference baseball wisdom in almost every chapter, and it adds tremendous depth to the story. Can you talk a little about your decision to write a baseball book? Which came first for you—the baseball or the death in the family? Or let me ask it this way: what did you set out to write when you began this book, and how close is this final version to your early imaginings?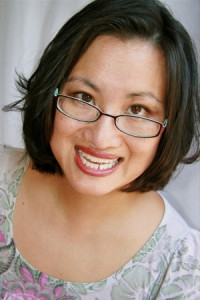 WWS: Baseball definitely came first. I was inspired by an incident that happened when my father was coaching my brother's baseball team, and I'd always wanted to write about it. In my mind the beginning of the book was about this incident; but of course, during the writing process, the truth came out. What I really wanted to write about was how this event changed my perception of my father.
ABW: Well, my perception of the father character completely changed in the course of reading the book. Well done! Much of this story is about relationships (within families and between friends and teammates), with a significant focus on father-son expectations. Where do you get your insights into family dynamics? How much comes from your own childhood? From your current family?
WWS: I am fascinated by father-son relationships, having two sons of my own and being a witness to many relationships around me. It seems like there are many intense feelings, but not always so many ways of communicating them. Even though the book is written from Peter's point of view, I had a very clear idea of what Peter's dad was trying to accomplish in every scene, even if Peter wasn't aware of it.
ABW: You've nailed the dialogue, and I wonder what advice you might offer for aspiring writers who struggle to make their characters' interactions ring true?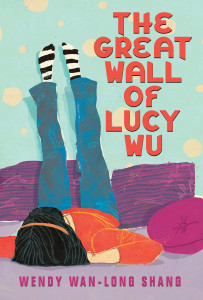 WWS: My advice to young writers (that I myself still struggle to follow) is to remember the dialogue belongs first to the character and then to the story. Be wary of having your character speak only for the purpose of advancing the story, if it does not serve the character's own desire and personality.
ABW: I'm also wondering if your process is anything like mine: I tend to write lots of scenes that never make it into the finished story. What about you? What scenes were the earliest that you wrote, and did those early scenes make it into the finished book, or fall away during the revision process?
WWS: I think of myself as a writer who usually doesn't cut a lot of scenes. When I'm working with my editor, Lisa Sandell, she usually asks me to add scenes. However, looking at my earliest draft, scenes were definitely cut! Here's a little scene that, again, I had completely forgotten about (and, as a fellow baseball fan, I thought you'd appreciate!), where Peter shows his love of baseball by writing a poem about baseball for school.
      "I've titled it, Pitcher." I cleared my throat.
                   I think that I shall never see
                   A call as beautiful as
                   STRIKE THREE!
      I waited for a beat. No one laughed. Rats.
      "Whaddya think?" I grinned, overly large.
      Mom smiled at me. "It's like that tree poem, isn't it? By Joyce Kilmer?"
      "Well, yeah, except it's not about trees." This was not the direction I wanted this discussion to go in: poetry analysis.
      "You could make it about birds," said Elaine. I didn't say anything, but I thought, yeah, if you're a bird brain.
      "It's pretty good, Peter. Though you might want to make it longer, you know, if you want to make sure you want a good grade," said Nelson.
      I thought a minute. "How about, And nothing makes me so depressed, as a fast ball hit with zest."
      This got me some smiles.
      "Or…a home run hit due…west," said Mom.
      "A ball struck by a big pest," said Elaine, pointing her finger in the air.
      "A line drive made well-addressed," said Nelson, like a baseball announcer.
      "This boy with baseball is obsessed," said Mom, wiping her eyes. "And he's infecting all of us." 
ABW: I do love baseball, and I love this scene! Sorry that you had to cut it, but at the same time, I think it's helpful for readers to see that sometimes even really good (and entertaining) scenes do get cut. This is great.
Let's talk some more about revision. How many drafts did you write before you showed the manuscript to your agent or editor, and once Scholastic bought it, did your editor want significant revisions? All in all, how long did it take to write The Way Home Looks Now?
WWS: Judging from the date stamp on my earliest draft, it took me about two years to write The Way Home Looks Now. I don't really work in numbers of whole drafts per se, because I write slowly. I tend to work a chapter until I'm happy with it, and then I move on, so an individual chapter might get re-written several times. I did show about 50 pages to a few readers early on, because I was experimenting with verb tense. Once I had a completed draft, I got more reader feedback and made changes.
For Home, I was very fortunate to work once again with Lisa Sandell, my editor from my first book. It's very nice to have that level of familiarity while editing, so it felt more like a conversation than anything else.
ABW: When (in your writing process) did this title come to you? Was it your choice, or Scholastic's?
WWS: I always had it in the back of my mind that  I wanted some play on how the home plate looks like a house drawn by a child. It took a few tries to get it right, but I feel very lucky that Scholastic liked the name, too!
ABW: Well, I think the title is perfect. And the book is a fabulous read. The protagonist is a boy, but I wouldn't call this a "boy book." It's got great cross-gender appeal. Thank you for penning such a great story, and for giving me the opportunity to interview you here.
Readers: if you'd like to meet Wendy Shang, she'll be speaking on a panel (free and open to the public) and signing books in Richmond, VA, on Saturday, June 20th: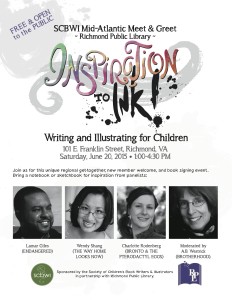 Inspiration to Ink:
Writing and Illustrating for Children
Saturday, June 20, 2015
1:00 – 4:30 p.m.
Richmond Public Library
101 E. Franklin Street, Richmond, VA
Sponsored by the Mid-Atlantic Region of the Society of Children's Book Writers & Illustrators in partnership with Richmond Public Library