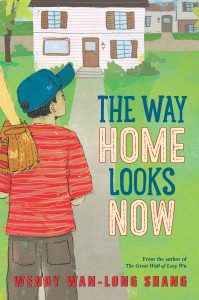 What a joy to feature Wendy Wan-Long Shang on my blog today! Wendy is the author of the award-winning novel The Great Wall of Lucy Wu, and tomorrow (April 28th) her second book for young readers, The Way Home Looks Now, comes out from Scholastic. Welcome, Wendy!
A.B. Westrick: This is a fabulous book—not only beautifully written, but so compelling. At times it's sad, at other times funny, and more than once surprising (but no spoilers here!). Let's talk about the beginning. I'm interested in the way you chose to start the story, or as I like to think of it, the place where you invite readers to enter in.
We meet the protagonist, Peter Lee, as he arrives home to find something very wrong with his mother, but it's a wrongness he's come to expect. Readers don't understand at first, and we're curious, and by the end of chapter three, we get it: there's been a death in the family. My question for you is this: was this opening always your opening? How did you come to settle on this particular scene for chapter one?
Wendy Wan-Long Shang: I had to go to my drafts folder for this one, and I'm so glad you asked because I had forgotten about some of my early drafts until now. In my earliest attempt, I tried to work completely chronologically, so that the death happens in "real time." What I discovered, though, was that I wasn't getting quickly enough to the heart of what I wanted to talk about—how Peter's relationship with his father changes.
In Chapter One, Peter and his sister are locked out of the house, even though his mother is inside. I developed this opening because I wanted it to serve as a sketch of Peter's situation—he is literally shut out of his mother's life, and he wants very much to re-connect with her, while at the same time wanting to protect his sister from getting hurt. Continue reading →