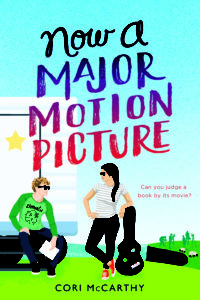 Is passion just an obsession with something you can't seem to get better at, or is it the very thing you can get better at?
"Courage is simple. First, be honest. Second, don't back down."
These themes are two of many in Cori McCarthy's latest YA novel, Now a Major Motion Picture, alternately funny, sad, wise, rich, and heartwarming. What a great read. And I'm giving away one copy! Hop to the end of this post. to enter the giveaway, and come back to read my interview with Cori. Deadline to enter: Wednesday, Aug. 22, 11:59 PM.
***** Please note that at some point after this interview, Cory changed the spelling of their name, replacing the "i" with a "y," but here, true to 2018, the "i" remains.*****
I met Cori on my first day at Vermont College of Fine Arts, and since then Cori's writing career has soared. This is their fourth published YA novel, and along with partner Amy Rose Capetta, Cori has two books coming out in 2019 and 2020. Cori also writes poetry, has a picture book hitting shelves in 2021, and is now on the faculty of the MFA program at our alma mater. It's an honor to interview Cori for my blog.
A.B. Westrick: Welcome, Cori.
Cori McCarthy: Thank you! It's my pleasure to be here.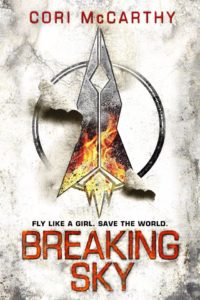 ABW: Let's talk craft! I just loved Motion Picture, and I want to start with the unique setting. Seventeen year-old Iris is behind the scenes on a movie set where her grandmother's novels are being adapted for the big screen. How did you come up with this setting? Is this an example of "write what you know"? I'm aware that your novel Breaking Sky is being made into a movie; did you write this novel after glimpsing some of that production?
CM: The setting and characters of Motion Picture are a bit of a hodgepodge of my life experiences. The book takes place in Ireland, where I lived for a year when I was twenty. Iris is an aspiring songwriter, which I also was in college. I even have an all-black Martin guitar named Annie, like main character Iris. The story is also about filmmaking, and that comes from my time in film school, studying screenwriting at UCLA. So, yes, this is definitely a "write what you know" situation.
ABW: I didn't know you'd also studied at UCLA! That's great. Clearly, your experiences helped you write an authentic story.
CM: UCLA, yeah. For a long time, I yearned to be a part of Hollywood, but to be honest, I was chased away by the rampant sexism that has been—and still is—holding that business back. All of which makes it into Motion Picture, mostly via the representation of the powerhouse female director in the book.
While the adaptation of Breaking Sky has been delightful to witness, Motion Picture's premise mostly came from my childhood love for J.R.R. Tolkien's world and the excitement of watching Peter Jackson's films reach a much wider audience than the original fiction. We give J.K. Rowling a lot of credit for making fantasy accessible, but you know what? Peter Jackson deserves credit for making fandoms mainstream.
ABW: Oh, yes. The films were great. (The books, too, of course!) And in Motion Picture, the plot includes elements of an earlier novel you'd written, inspired by Tolkien. (I know this tidbit thanks to your Acknowledgements page and website.) Okay, so you wrote this earlier novel, Elementia, and it wasn't ever published, but parts of it appear in Motion Picture. I've heard writers say that "kill your darlings" means saving sections for later rather than throwing them out. Is it fair to say that's exactly what you did with Elementia?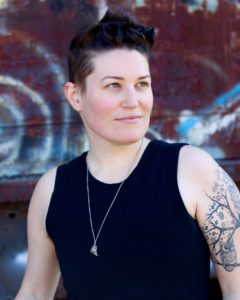 CM: Yes, very much so. I spent five years in my early twenties writing the "feminist answer to Tolkien's world." I wanted something like Lord of the Rings—but with inclusive characters. This became the trilogy Elementia. When I went to grad school, however, I had to put the story away because it had far too much baggage to learn on/from.
Some writers are mildly terrified when I say I shelved something I'd worked on for so long, over several drafts, but it was the best thing I could have done. The darling was killed, so to speak, but it allowed me to make huge gains in my craft. New stories, new lessons. (One might say that new lessons mean new mistakes, and new mistakes are easier to learn from than older ones.)
ABW: I like that. I've thrown away a number of early novels, but like you, parts have drifted into later writings. How long was your original version of Elementia?
CM: About 120k words, and of that about 1k made it into Motion Picture, which seems worth it to me…after a great deal of hindsight. Nothing is wasted, dear writers.
ABW: You told me "this book was tough to birth." How long did it take you to write Motion Picture? How many revisions did it go through?
CM: It was rather up and down, to be honest. This book had an average gestation (average for my novels) of about a year, first word to copy edits. I created the idea for the story with my beloved editor, who I did two of my other books with, and we had quite the exciting vision for it.
Unfortunately, she took a wonderful new job early in the drafting process. (I have since started publishing with her at a different house.) I was fortunate enough to work with two other great editors on this book, but there's a sense of "magic lost" when you lose the original editor on a book. That can be hard to come back from. (Big sigh.)
ABW: I love the chapter headings in Motion Picture. Many made me laugh out loud (such as, "There is some kissing in this chapter"), and I wondered if you crafted them along the way or late in the process? Was it your idea to title the chapters, or your editor's?

CM: That was my idea, but my editor was a huge fan! This book was my first comedy—a romcom—and I found that, you know what? Comedic writing is A LOT trickier than dramatic action or thriller writing. This book took a lot of finessing, and I used those chapter headings to keep myself "zoned in" on the humor.
Several of the titles were there from draft one, like "I Don't Mean To Alarm Anyone But There's An Elf In Baggage Claim." Others evolved as the story was revised. Example? "Philip Pullman Will Break Your Heart." That one clicked into place at the very end…
ABW: You say it was tricky, but you nailed it. Motion Picture is full of laugh lines. Really fun.
Now let me ask about the story's LGBTQ+ element. One of your secondary characters laments that being queer is "a big [effing] deal in this business [Hollywood]." I know you identify as queer, or as you put it in this interview at A New Look on Books, "nonbinary, pansexual, mixed race Arab American." So my question is: how much of you is inside each of your characters? Where does Cori end and Iris begin? How are you similar to and different from Shoshanna?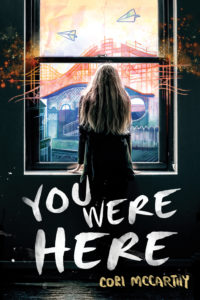 CM: When I am writing a character, I am always searching for what we have in common. That's the ground where I plant my craft roots so the character can come to life via my own experiences. For example, my book You Were Here has five point of view characters and its working title was "A Tale of Five Coris." Each character was a little piece of my personality at a different point in my life.
With Iris, I bonded with her struggle to understand sexism in the world and in her own family. I went through much of that struggle in college, the same time when I was also trying to amass the courage to share my writing with the world.
When it came to Shoshanna, I let my anger at being continuously marginalized take the wheel. I gave her a lot of the same problems I have had to face as a queer author, as a mixed race person, and as an Arab American. This was, actually, rather cathartic and helped me vent frustrations that are only spinning wheels unless you let them fuel characters and stories. J
ABW: Cathartic—good to hear. And honest. I love that you've put your frustrations into characters and stories. What are you working on now?
CM: Oh! I'm working on the sequel to my forthcoming space fantasy King Arthur retelling entitled Once & Future (March 2019). I wrote this book with my partner, YA author Amy Rose Capetta, and we have had A BLAST retelling Arthurian canon with inclusive characters and a wild outer space setting. We are in the early outlining stage at the moment for the sequel, and our excitement is currently building to the perfect first draft writing crescendo…
ABW: I can feel your excitement in your answer. Thank you so much for doing this interview, Cori!
CM: Thank you so much for having me!
Readers: you have lots of options here to enter the giveaway. Enter as often as once a day!
If you want to learn more about Cori and their writing, check out Cori's website, facebook author page, and Twitter feed. Good luck in the raffle! Come back later this month to find out who wins (the winner will be randomly selected by Rafflecopter).