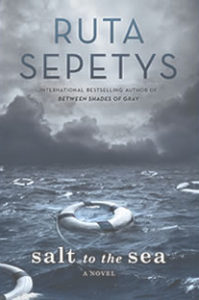 This month, I caught up with Ruta Sepetys, recently home from a two-month book tour for her latest historical YA, Salt to the Sea. It's a gripping World War II story of a group of teenagers running for safety while the Russian army marches toward Germany and American bombers fly overhead. Set in 1945 in what is now Poland, the story leads up to the sinking of the Wilhelm Gustloff in the Baltic Sea, the greatest tragedy in maritime history.
In this video clip on Ruta's website, we learn a bit about the family history that inspired Ruta to set her novel during WWII. Watching this clip is well worth four minutes of your time:
Ruta notes that "empathy is one of the greatest and most beautiful contributions that we can achieve through writing." Empathy. Yes! So necessary when it comes to crafting a character, and especially when writing multiple characters and multiple points of view. I'm thrilled to have Ruta here to tell us how she did it.
A.B. Westrick: Welcome, Ruta. So glad you could share your thoughts about craft and process.
Ruta Sepetys: Thank you so much for having me!
ABW: Let's start with that awful Alfred character—awful and oddly funny. The story is tense and Alfred provides a lot of comic relief in circumstances that are otherwise bleak. Was Alfred part of your early drafts, or did you weave him into the story later when you realized the need to lighten things up? How did you go about crafting him? To what extent is he based on someone you know? Continue reading →