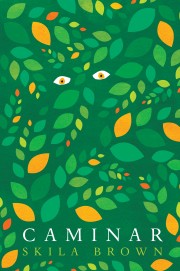 Listen to these lines from the first page of Caminar, Skila Brown's debut novel in verse:
Our village sat in the folded-between,
in that spot where you pinch something sacred,
to keep it still.
Our mountain stood guard at our backs.
We slept at night in its bed.
This book mesmerized me. Its lyrical beauty quickly transported me to the jungles of Guatemala with its owls and soccer-playing children and military men looking for older brothers, old enough for signing papers, and one day…
Soldiers Set Up Camp
That year before the rains began, they came
in jeeps, with tents for sleep,
set up camp outside our village.
I couldn't put it down. I loved Carlos, the young protagonist of this story, and I just had to get inside Skila Brown's head to hear about her process in writing a novel in verse. I wanted to glean tips for tackling this art form.
A.B. Westrick: Skila, thank you so much for doing this blog interview. Carlos's story captivated me from page one, and stayed with me long after I finished reading. I find the idea of writing a novel in verse to be daunting. Can you tell me which of the poems you wrote first? What part of Carlos's story became your starting point, and how did the story evolve during the course of writing?
Skila Brown: Anne, thank you so much for inviting me onto your blog! The first poem that came to me was "Guerilla Rain." The poems that ended up following that one in the book came next. Often I would write 3-5 poems in a spurt, and on the next day, I'd write verses that would appear in an entirely different section of the book. Writing out of order is fun and frustrating—in equal parts. But Carlos's story, for me, started with the arrival of the guerillas. I knew this was about a boy whose village got targeted simply because the rebels had passed through. Continue reading →