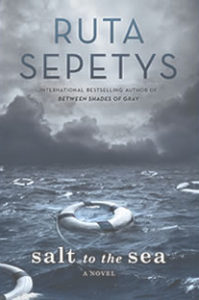 This month, I caught up with Ruta Sepetys, recently home from a two-month book tour for her latest historical YA, Salt to the Sea. It's a gripping World War II story of a group of teenagers running for safety while the Russian army marches toward Germany and American bombers fly overhead. Set in 1945 in what is now Poland, the story leads up to the sinking of the Wilhelm Gustloff in the Baltic Sea, the greatest tragedy in maritime history.
In this video clip on Ruta's website, we learn a bit about the family history that inspired Ruta to set her novel during WWII. Watching this clip is well worth four minutes of your time:
Ruta notes that "empathy is one of the greatest and most beautiful contributions that we can achieve through writing." Empathy. Yes! So necessary when it comes to crafting a character, and especially when writing multiple characters and multiple points of view. I'm thrilled to have Ruta here to tell us how she did it.
A.B. Westrick: Welcome, Ruta. So glad you could share your thoughts about craft and process.
Ruta Sepetys: Thank you so much for having me!
ABW: Let's start with that awful Alfred character—awful and oddly funny. The story is tense and Alfred provides a lot of comic relief in circumstances that are otherwise bleak. Was Alfred part of your early drafts, or did you weave him into the story later when you realized the need to lighten things up? How did you go about crafting him? To what extent is he based on someone you know?
RS: Oh yes, awful Alfred was a main player in my very first draft. I think of Alfred as a study of visibility. What happens to a young man who is isolated, rejected, invisible for much of his life and then suddenly he is given a uniform and becomes visible…if only in his own mind? In my early drafts, Alfred was quite humorous and sad, but during revisions it was suggested that I take a darker route with Alfred, showing him as someone with a perverse sense of superiority, someone who feels entitled to possess beautiful, innocent things like butterflies…and Hannelore. I liked that idea. Readers who may be familiar with Hitler's teenage years will find many direct parallels in Alfred. Hitler wrote letters to a girl and never mailed them, etc. Alfred is not based on anyone I know (thank goodness), but was partially inspired by John Fante's character of Arturo Bandini.
ABW: His creepiness really came through. I hated him, but I also laughed while reading his chapters, and I appreciated those moments of levity.
I found the alternating voices of your four protagonists compelling, and wanted to ask about your process in developing them. Each is unique. Which voice came to you first, and at what point along the way did you settle on alternating between these four?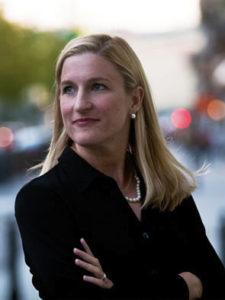 RS: Alfred's voice came to me first and Emilia's voice came to me last. I decided on the alternating structure well before I wrote a single word. As I was researching the sinking, evacuation, and time period, I was fascinated that the same event when described by people from different countries could be so drastically varied. But of course we all see history through our own cultural lens. So I decided well in advance to present the story through the alternating POVs of four cultural lenses: Lithuanian, East Prussian, Polish, and German.
ABW: Nice. The maps in the end pages were great, too. They helped me keep track of the geography and the paths the characters were taking.
In the FAQs on your website, you say that you often write in bits and pieces, jotting dialogue as it comes to you, or recording thoughts during long drives. Can you say more about your process?
RS: I spend a lot of time thinking about a story before I begin writing. I take walks and think. I drive and think. I jog and think. I keep a journal for every novel, and that journal becomes my bible for the book. I write all of my plot ideas, random thoughts, emotions, comments, and dialogue bits in the journal and date each entry. When I'm on a research trip, I capture all of my research notes in a little spiral notebook.
ABW: Once you have all of these bits and pieces, how do you go about organizing them? How do you transition from pieces to a uniform whole?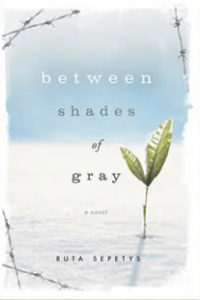 RS: At the beginning of a project I may create an initial spreadsheet to keep track, but ultimately, I always go back to the journal. History provides a basic framework, but I don't outline heavily and I never have the whole plot figured out when I begin. That's true of my earlier works, too—Between Shades of Gray and Out of the Easy. I love the creative process and allowing the story and characters to emerge as I'm writing.
ABW: I assume that at some point while writing Salt to the Sea, you had the story figured out chronologically, then you started in the middle and wove in back-stories as the characters had reason to think about the past. But am I wrong about that?
RS: I wrote Salt to the Sea sequentially, just as the reader reads it, swapping and alternating the voice in each chapter.
ABW: Okay, wow. That amazes me—that you wrote the chapters in the order they're published. The voice and point of view—the feel and cadence and sound—clearly switches from chapter to chapter, and the back-stories flow seamlessly through the narrative. Really well done.
In the video clip above, you mention the value of having a writing group. You're fortunate to have met kindred spirits for the journey.
RS: Yes, I have a wonderful writing group and community of author friends who are so generous to brainstorm plot and story with me. I owe a huge debt to Courtney C. Stevens who sat at restaurants and hotels with me on tour, brainstorming details and backstory. Also, my brilliant editor, Liza Kaplan, gave me fantastic revision notes that made the story and characters feel very real. I love working as a team on a book. It makes the whole process much more fun.
ABW: And the process produced a fabulous book. Thank you so much for taking time to answer my questions, Ruta! It's an honor to feature you and your writing on my blog. While you were doing the book tour, I was following the travels of my good friend and writing colleague, Meg Medina, who met up with you at the Tucson Festival of Books. Here's to festivals and the book you're working on next…!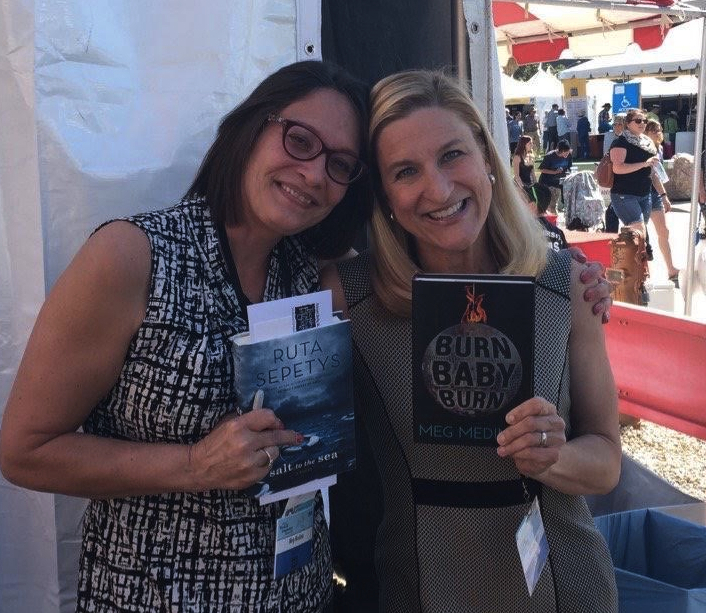 For more about Ruta and her books, check out the author videos and more on Ruta's website.