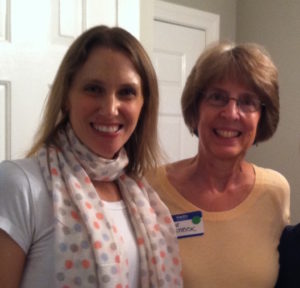 Today I want to sing the praises of Richmond, Virginia's writing community! I'm fortunate to be surrounded by poets, novelists, journalists, and nonfiction geniuses. Just a few minutes away lives Anne Blankman, and last year when I visited, her daughter snapped this picture of us.
Anne is the author of three YA novels, all published by Balzer+Bray: Prisoner of Night and Fog, Conspiracy of Blood and Smoke (a sequel to the first), and Traitor Angels.
A.B. Westrick: Hello, Anne, and welcome to my blog!
Anne Blankman: Thanks so much for having me!
ABW: Today I want to discuss your first novel, but before we jump in, I have to tell readers that I've got a giveaway here: an Advance Reader Copy (ARC) of Traitor Angels, signed by you! Readers who leave a comment at the bottom of this post will be entered into a drawing for the ARC. The deadline to comment and have your name in the drawing is June 15, 2017.
Now let's focus on Prisoner of Night and Fog. Set in Germany during Hitler's rise to power in the 1930s, it's the story of 17 year-old Gretchen Müller, who adores Hitler and knows him as "Uncle Dolf." When Gretchen learns that her father had been murdered, not martyred (as she'd been told), she sets out to find the truth. Read More