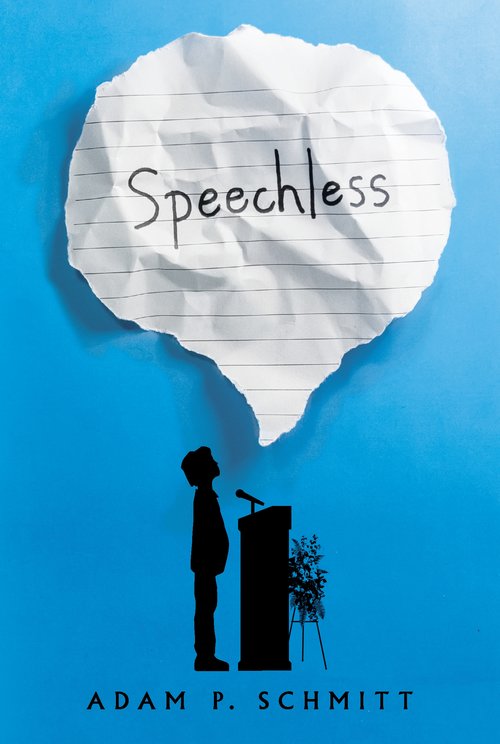 After reading Adam P. Schmitt's debut middle grade novel Speechless, I was… speechless. No, really. I was. Seriously. Toward the end, through a secondary character named Sofia, Schmitt crafted an unexpected turn, and I marveled at the story's depth. (No spoilers here. You'll have to read it!)
I loved this novel, so I went looking for Adam and begged for an interview. Turns out, I didn't need to beg. He said, "Sure!" And that means—lucky you! One reader will win a copy of Speechless. Hop to the end of this post to enter the giveaway, then come on back to hear how Adam crafted such a great book. Deadline to enter: Tuesday, April 30, 2019, at 11:59 PM.
Adam, welcome to my blog! I'm so glad you could share some thoughts about craft.
Adam P. Schmitt: Thanks for tracking me down.
ABW: I want to ask about the wonderful secondary character, Sofia, but we'll get to her in a minute. Let's start with the unusual setting and comic voice. Most of Speechless takes place in a funeral home. Even though a kid has died, you manage to make the story funny. So here's my question: the book jacket reveals that you got the story idea while attending the funeral of a former student. Was humor a part of your initial idea, or did you work in the funny parts later? (If I were to ask your students if you're a funny teacher, would they say YES?)
APS: Oh, yes…humor was always going to be in the mix. I knew this was going to be a heavy-ish book for the middle grade audience and it was very important to me that the book had balance. I also wanted to reflect what I think happens at so many wakes—joy. Continue reading →