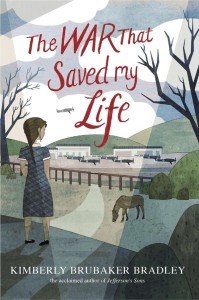 Last week, Kimberly Brubaker Bradley won the Newbery Honor Award for her middle grade novel, The War that Saved my Life, and just this week she's learned that it's hitting the New York Times bestseller list. The book was also a co-winner of the Schneider Family Book Award, and the audio version won the Odyssey. Wow. Congratulations, Kim!
Kim and I "met" online after she blurbed Brotherhood (her lovely words appear on my book jacket and on the Brotherhood page of my website), and I was thrilled when she agreed to carve out time for this blog interview.
A.B. Westrick: Welcome, Kim! I loved reading The War that Saved my Life, and wanted to ask for your reflections on the craft of writing.
Kimberly Brubaker Bradley: So glad to appear on your blog! Thank you for asking.
ABW: Let's get right to the heart of The War that Saved my Life. Set in England at the start of WWII, it's the story of ten year-old Ada, who was born with a clubfoot and whose abusive mother has tried to keep her hidden. As world events compel Ada out into the world, she must struggle both to understand all that she's missed and to heal from the trauma of abuse. My first question is: how did you go about crafting Ada's voice, so British and so real? Continue reading →