This month I read two awesome mysteries, Mary Miley's The Impersonator, and Kristen Kittscher's The Wig in the Window, and found myself in awe of both authors' mastery of plot. I imagine mysteries to be a tough genre to write, but what do I know? So I asked Mary and Kristen how they went about plotting their stories.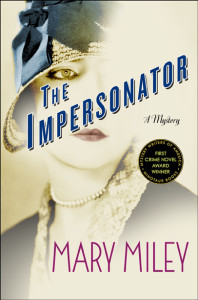 The Impersonator is set during Prohibition (the Roaring Twenties) and geared toward adult readers, and The Wig in the Window is contemporary and written for young readers. As each plot unfolded, I noticed similarities in the structure of these novels, so I just had to know…
A.B. Westrick: Did you outline the book before you began writing? How necessary is an outline when writing a mystery?
Mary Miley: I don't outline in the high school sense (with Roman numerals and numbers and capital letters), but I am highly organized and I list my chapters or events in order, then decide when and how to work in the subplots before I start writing. As I go along, I make changes, of course, but I'm guided toward an end.
For mysteries, plot rules. Of course, characters are critical too, but the plot is what mystery readers are buying, and it needs to be intricate or surprising or challenging and complicated to succeed. A mystery writer, I think, needs to know the ending or the critical unexpected element before he/she even knows the beginning. For example, in the fourth of my Roaring Twenties series, which I am writing now, I knew the "trick" before I knew anything else—I knew the unusual way the murderer was going to kill his victim and how Jessie would know—and the police wouldn't—who did it. I had nothing else for plot, just that. I am now in the process of constructing a plot around that critical element.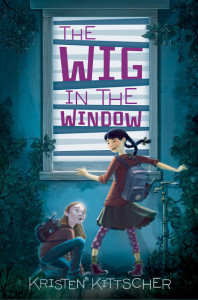 Kristen Kittscher: I didn't outline The Wig in the Window up front but instead charged ahead blindly. I made a mess of things, took ages, then wrote an outline after the fact that helped me shape the story. I've taken the opposite approach with the sequel because I do think that outlining saves a great deal of headache (and heartache?), even if the story ends up deviating from the original outline. The ripple effect when you try to revise a mystery is extreme; with so many set-ups and pay-offs, it's easy to get yourself in a tangle! Without some careful advance planning, you can end up with some elements that are almost impossible to change without rewriting the whole book.
ABW: Okay, so plot rules and outlines help. You've confirmed my assumptions! A similarity that I noticed in your plot structures was that in both, the protagonist reaches a low point (fairly close to the end) where she's sure that her efforts have been for naught. To what extent do you consider this down-in-the-dumps moment to be integral to the plot of a mystery? Do you know of any mysteries that do not structure the plot this way? Continue reading →