How and where is it best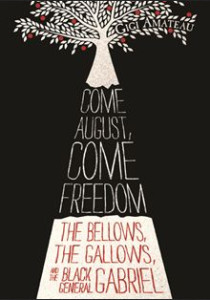 to enter into a particular story—which moment, which sounds and which smells should a writer introduce in the opening scene? When I first read Come August, Come Freedom: The Bellows, The Gallows, and the Black General Gabriel by Gigi Amateau, I was fascinated by Gigi's decision to begin the story the way she did. I asked her why she chose that approach, and am privileged to feature her answers here. I found Gigi's comments as engaging as the novel.
A. B. Westrick: Come August, Come Freedom is the story of Gabriel, the enslaved blacksmith who organized a massive but ultimately unsuccessful rebellion in Richmond, Virginia, in 1800. What I found intriguing was the way you chose to enter into Gabriel's story. The first line is, "Ma believed," and the chapter unfolds to show Ma nursing him when he was six months old. Why did you choose to begin the book with Ma?
Gigi Amateau:  As I read and studied about the institution of slavery during Gabriel's lifetime, I learned (in a way that I hadn't really integrated into my thinking about slavery before writing Come August, Come Freedom) that the crucible of slavery was the childbearing role of enslaved women. The laws governing a person's status as free or enslaved were grounded in the concept of maternal descent—the mother's status (not the father's) determined a child's status. So, the impulsion of the plot is maternal descent. Also, I wanted to create the character of Gabriel as a person who was not the first freedom fighter in his community or in his family, but one who was born into a tradition of resisting oppression and fighting for freedom. So, I surrounded him early on in the novel with men and women imagining freedom and rebelling against slavery. Continue reading →