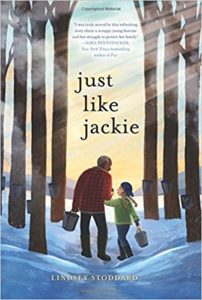 What a great debut from Lindsey Stoddard! When I read Just like Jackie, I couldn't wait to feature Lindsey and her writing on my blog.
In addition to doing this interview, I'm giving away one copy of Just like Jackie! For a chance to win, hop to the end of this page and fill out the form. Then come back, enjoy the interview, and glean some craft-of-writing insights. What Lindsey says about hearing a character's voice is a fabulous tip. Deadline to enter the giveaway: July 25, 2018, at 11:59 PM.
I first met Lindsey at Vermont College of Fine Arts. Back then she was teaching middle school (my all-time favorite age group) while drafting stories and working on her MFA. She now writes full time, or as full as she can with two little ones in tow.
A. B. Westrick: Lindsey, welcome to my blog!
Lindsey Stoddard: Hello from Vermont!
ABW: Ah, Vermont… I'll bet it's gorgeous in New England right now—best place on earth in the summer. I guess maple syrup season is awesome, too, but we'll get to that in minute.
First let's talk about your feisty and oh-so-lovable heroine, Robbie. I read in your interview at Through the Tollbooth that part of your writing process involved channeling your anger as a child. Robbie's anger comes through with honesty, and my question is: how much are you and your protagonist alike? Did you have to learn anger-management techniques like she does in the novel? Were you also a regular in your guidance counselor's office? Where does the real Lindsey end and the fictional Robbie begin? Continue reading →