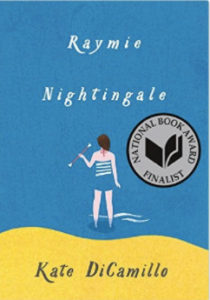 The other day while reading Raymie Nightengale by Kate DiCamillo, I hit a passage that from a craft of writing perspective was so good—so well written—it stopped me cold. I marveled at the technique, and knew in an instant I'd have to blog about it. So here we go. See what you notice in this excerpt from pages 5-6. We're in the point of view of a young girl named Raymie who's in a baton-twirling class with a teacher named Ida Nee. Standing next to Raymie is a girl who says…
     "My name is Beverly Tapinski and my father is a cop, so I don't think that you should mess with me."
     Raymie, for one, had no intention of messing with her.
     "I've seen a lot of people faint," said Beverly now. "That's what happens when you're the daughter of a cop. You see everything. You see it all."
     "Shut up, Tapinski," said Ida Nee.
     The sun was very high in the sky.
     It hadn't moved.
     It seemed like someone had stuck it up there and then walked away and left it.
Oh, my gosh. Stop. Isn't that great? (Or do you think I'm crazy?) Notice what DiCamillo does. Or what she does not do. She does not follow Ida Nee's rebuke with Raymie's opinion about Ida Nee. She does not tell us Raymie's feelings. Instead, she describes what Raymie looks at.
As a reader, what do you feel?
How do you think Raymie feels?
The brilliance of this passage is the way DiCamillo trusts the reader to get it.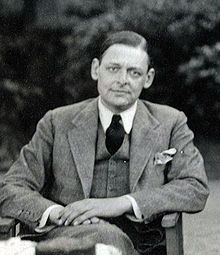 DiCamillo has used a creative writing technique with a rather obtuse name: the objective correlative. T. S. Eliot elaborated on this technique in a 1919 essay called "Hamlet and his Problems," and when I was an MFA student at Vermont College of Fine Arts, author and faculty mentor Tim Wynne-Jones lectured about it. The essence of the technique is this: in order to communicate to readers what your character might be feeling, describe an object, situation, or set of circumstances that correlates with the character's emotion. Don't identify the emotion; let the reader infer it.
Eliot undoubtedly incorporated into his writing objective correlatives with more sophisticated language than what DiCamillo uses in Raymie Nightengale, but regardless of voice, style, or vocabulary, the effect is the same: the author stirs emotions in the reader without telling the reader what to feel. When done well, this technique is a highly effective tool in the show-don't-tell toolbox.
If you want to read more about objective correlatives, I'd recommend this essay by a student at Carson-Newman University, and this explanation on the NeoEnglish website. See if you can revise passages in your current work-in-progress, removing words that name characters' emotions and replacing them with objects or situations that communicate the mood or feeling in the scene. Write it well and readers will vicariously experience what the characters do. Good stuff.
Happy writing!