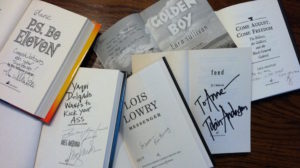 I buy oodles of books. They pile up on shelves, and on a wide windowsill beside my writing desk. They collect dust in stacks on a braided blue rug, and from time to time I clean them off. Every year we donate one or two boxes worth to a library sale, clearing space for new reads. But I can't bear to part with any of the books that authors have signed to me. To me.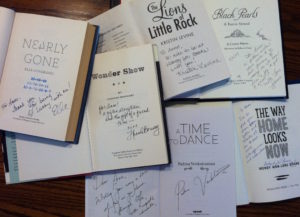 These pictures show only some of the many signed YA and middle grade titles in my collection. I also have a slew written for adults—nonfiction, poetry, memoir, mystery, thrillers, and literary fiction. I'd like to say I've read them all, but the truth is that some sit in my to-be-read stack (which got three books taller after last week's RVA Lit Crawl. Richmond, VA, is a great town in which to be a writer. Have I said that before? Yeah.)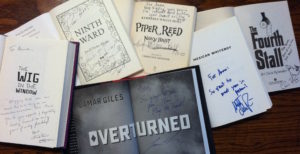 It takes a long time to draft a novel, and even longer to revise it, and in my case we're talking years. I'm currently in a stage of deep and messy revision on two novels, and sometimes I wonder if I'll ever get them out into the world. Sometimes I feel discouraged.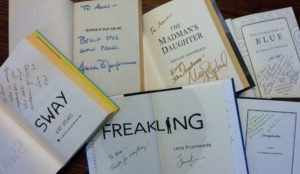 Then I pick up a signed book, feel its weight, turn a few pages, and run a finger across the inscription. I picture the author who signed it. I try to recall the conversation we had on the day I got the signature. I remember getting tongue-tied when I met Lois Lowry because The Giver is one of my all time favorites and I couldn't believe I was actually meeting the author. We were in Richmond in the bookstore formerly known as Narnia (now bbgb books), and for Lois it had been a long day. I think she'd done some school visits, and by late afternoon was probably ready for a nap, but there I was, eager and tongue-tied, and as I recall, I mumbled that I was writing a book for young readers. "Good luck," I think she said. Or maybe, "It's a rewarding job." Or maybe I've forgotten her exact words, but I haven't forgotten her encouragement, her warmth, her smile.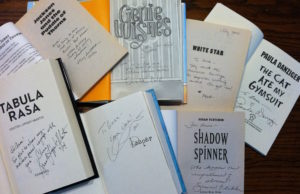 Sometimes when I look at my name handwritten in a book, I imagine the author writing a new novel, hunched over a desk or leaning back in an overstuffed chair with a laptop, sipping coffee, typing away. I always picture these authors smiling, but who knows? Maybe they cry while they write. (Nah. Don't tell me that. And actually, come to think of it, one of these authors has passed away, so I have to picture her smiling from heaven.) In any case, the image of most of these authors hard at work on another book motives me to get back to my manuscript.
Every morning when I slip into my backless chair, the shelves above my desk like telephone wires full of birds chatting and singing, ready to take flight, I feel the authors smiling. I imagine they're smiling at me. At me! And I pick up my gel pen and begin to write…