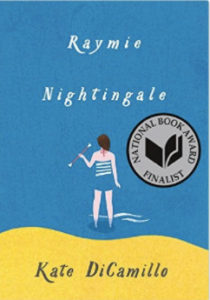 The other day while reading Raymie Nightengale by Kate DiCamillo, I hit a passage that from a craft of writing perspective was so good—so well written—it stopped me cold. I marveled at the technique, and knew in an instant I'd have to blog about it. So here we go. See what you notice in this excerpt from pages 5-6. We're in the point of view of a young girl named Raymie who's in a baton-twirling class with a teacher named Ida Nee. Standing next to Raymie is a girl who says…
     "My name is Beverly Tapinski and my father is a cop, so I don't think that you should mess with me."
     Raymie, for one, had no intention of messing with her.
     "I've seen a lot of people faint," said Beverly now. "That's what happens when you're the daughter of a cop. You see everything. You see it all."
     "Shut up, Tapinski," said Ida Nee.
     The sun was very high in the sky.
     It hadn't moved.
     It seemed like someone had stuck it up there and then walked away and left it.
Oh, my gosh. Stop. Isn't that great? (Or do you think I'm crazy?) Notice what DiCamillo does. Or what she does not do. She does not follow Ida Nee's rebuke with Raymie's opinion about Ida Nee. She does not tell us Raymie's feelings. Instead, she describes what Raymie looks at.
As a reader, what do you feel?
How do you think Raymie feels?
The brilliance of this passage is the way DiCamillo trusts the reader to get it. Read More