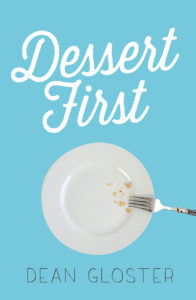 This month, after devouring Dean Gloster's debut YA novel Dessert First, I just had to track down the author and hear a bit about the story behind the story. How did he come to write this poignant novel? Lucky for me, Dean is currently studying in the MFA program at my alma mater, Vermont College of Fine Arts, so I found him there, and he made time in between MFA assignments to talk craft.
A.B. Westrick: Hello, Dean, and welcome to my blog!
Dean Gloster: Thank you for having me!
ABW: I want to start with a question about the funny-sarcastic parts of this book, but first I need to tell readers a bit about the story because a whole lot of the book really isn't funny at all. From the title and cover art, readers might think the book includes a few recipes, but… no. Dessert First is the story of 16-year old Kat Monroe and the many issues in her life, beginning with her brother's cancer relapse (leukemia), and including soccer girl bullies, a former boyfriend, and academic woes. Life is pretty rough, but Kat tries to keep up her sarcastic-funny side. So my first question is where this character and her sense of humor came from. Your bio says you've done stand-up comedy. Is it easy for you to write one-liners? Do teen characters bring out a natural snarkiness in you?
DG: Humor does come naturally to me and Kat's voice came easily, in part because I channeled 16-year-old me. (Back then, I also had anger that came out as sarcasm, and that did not serve me well with peers.) Read More