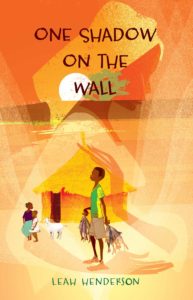 What a wonderful new book for middle grade readers! Leah Henderson's debut novel One Shadow on the Wall took me deep into a Senegalese village and the story of Mor, a boy who desperately wants to keep his family together. Even though the setting is foreign (at least, it is for American-born-and-bred-me), the plot is the stuff of human experience: the struggle to stand up to a bully, the desire to prove oneself and make a difference, the love of family and home. It's such a heartwarming story, I had to catch up with the author for a blog interview!
I met Leah at the 2016 SCBWI Mid-Atlantic conference in northern Virginia, ran into her again at the AWP conference in D.C. in early 2017, and attended her book launch party on June 6th in Richmond where YA author Lamar Giles hosted an insightful Q&A. Too fun!
Now I have a signed copy of One Shadow on the Wall here in my hot little hands, ready to give away to a lucky reader.
A.B. Westrick: Leah, welcome to my blog!
Leah Henderson: Thank you so much for asking me to stop by.
ABW: I'd love for you to share a bit about your journey to write this story. Let's start with the unique setting, Senegal. You give readers a glimpse into the people and culture of this "land of teranga (hospitality)." I especially loved the way you wove foreign words into the narrative. Jërëjëf (thank you)! In your author's note, you talk about your travels. Please say more! When did you first journey there, and why Senegal?
LH: I have an insatiable travel bug, and before writing the novel I had been to Senegal only a couple of times. It is a place with a rich history and it had always been on my "Pack a bag" list that is miles long! Read More