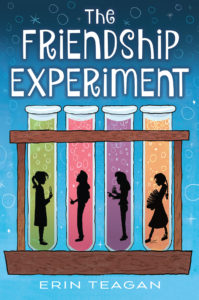 I don't remember exactly when I met Erin Teagan, but I know it was through SCBWI's Mid-Atlantic chapter—either the annual fall conference or the novel revision retreat. It might've been as many as ten years ago, so in 2015 when I heard Erin's debut novel had sold to Houghton Mifflin Harcourt, I did a happy dance!
The Friendship Experiment is a heart-felt middle-grade novel about a 6th grader who loves science and could use some help in the friendship department. It hit shelves in late 2016, and this month I caught up with Erin to ask about her writing process.
A.B. Westrick: Congratulations, Erin! And welcome to my blog.
Erin Teagan: Thank you, Anne!
ABW: I want to start by asking about you. Your bio says you're a former research scientist. How much of you is present in your protagonist, Maddie, and how much of Maddie is pure fiction? Tell us a little about your process in crafting this delightful character.
ET: The idea of Maddie came to me when I was working for a biologics company and I took my mug to the dishwasher and found that a scientist had posted a very official and detailed standard operating procedure on how to use this everyday appliance. I immediately thought about this scientist's life. Did he write SOPs and put them on his appliances at home? Did his kids have an SOP taped to their bathroom mirror to help them brush their teeth? This is how Maddie came to me. Read More