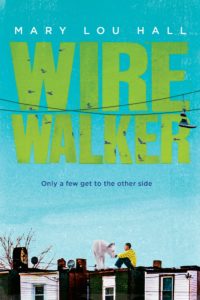 Mary Lou Hall's debut novel Wirewalker came out in September 2016, introducing YA readers to 14 year-old Clarence Feather, a boy with a big heart and some big problems. He earns pocket money running drugs while grieving his mother's death and longing for another way to live. The story is beautifully written and hard to put down, and after reading it, I just had to interview Mary Lou for my blog.
But before we get to the interview, note the title of this post. It's not "believe in your story," but Believe your Story. Read on to get to the distinction Mary Lou makes.
And meanwhile, sign up for the book giveaway! I tracked Mary Lou down, got her signature on a hardcover, and am doing this giveaway through Goodreads. If you want to enter, check out the Goodreads Giveaways page. Free, no strings attached. Deadline: July 20, 2017.
A.B. Westrick: Welcome to my blog, Mary Lou! I really appreciate your taking time from your busy teaching schedule to tell me a bit about what inspired you to write this gripping YA drama.
Mary Lou Hall: Thanks for inviting me to your blog!
ABW: Let's start with where Wirewalker came from. I'd love to hear what the spark was that lit your imagination and compelled you to write Clarence Feather's story.
MLH: During late college and through graduate school, I waited tables and tended bar in a swanky, successful restaurant. While I was there, I became friends with a co-worker who was six years younger than I was. At that point in my life, the age gap seemed significant. He was barely old enough to legally work. To me, he seemed like the quintessential innocent kid encountering the so-called real world for the first time. I was wrong. Read More