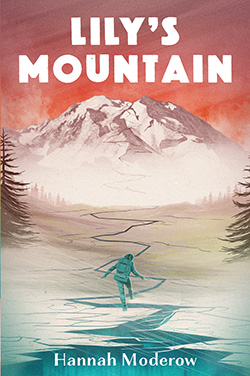 This month I visited Alaska's Denali National Park—not in person, but in prose—when I read Hannah Moderow's debut novel Lily's Mountain. From grizzly bears to swarms of mosquitoes, frigid streams, rustic outhouses, a run-in with a porcupine, and a deep crevasse in the ice, the story takes readers on Lily's quest to find her missing mountain-climbing, Scrabble-playing father. It's a great read!
And today, in honor of bringing Hannah to my blog, I'm doing a BOOK GIVEAWAY! Scroll to the end of this interview for details on winning a copy of Lily's Mountain and ALSO a book I mentioned in last month's post: Get a Grip on Your Grammar by Kris Spisak.
A.B. Westrick: Welcome, Hannah!
Hannah Moderow: Thank you for having me, Anne. I think back so fondly to our days together as students at Vermont College of Fine Arts.
ABW: I loved meeting you at VCFA, and I can't believe it's been seven years since we graduated. Feels like yesterday. And look at us now—still geeking out over the craft of writing!
So tell me about the poem by Robert Service that you included in Lily's Mountain. Talk about grounding readers in the setting! His words really drew me in:

What an engaging, lyrical poem. And my question is about your decision to have Lily remember this poem as her dad's favorite. Did you plan to include the poem from the get-go? Was it in your first draft of the story, or did it emerge in a later draft? Continue reading →