I'm so glad to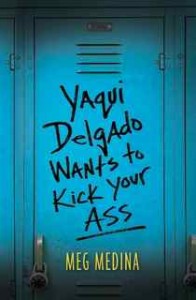 have had the opportunity to interview Meg Medina, author of Yaqui Delgado Wants to Kick Your Ass, coming out this month from Candlewick Press. It's a tense, tightly written novel about surviving high school. Click here to watch the trailer, and read on to hear what Meg had to say about crafting her bully, Yaqui, and her protagonist, Piddy Sanchez.
A.B. Westrick: From the opening line, Yaqui Delgado's threat carries the tension even though her physical presence is (relatively) minimal. Here, less bully makes for more bully. A brilliant story structure! What was your process in writing the story this way? Was that first line always your first line, or did it emerge in the course of revisions?
Meg Medina: The first line of this novel has never changed, and that's not something I can say about anything else I've written. It was plucked from real life, which we'll get to a little later. As an author, it provided me with a way to reveal the main problem of the novel in one crude and forceful blow.
Keeping Yaqui as a threatening presence, rather than fleshing her out was tricky. At first I wondered if I should develop her more. Readers would wonder, I thought, about what fills someone with such rage. Continue reading →