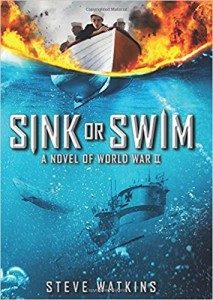 Ready for summer reading? Hey, if you're planning to vacation at North Carolina's Outer Banks, or if you love historical fiction or war stories, pick up Sink or Swim by Steve Watkins. The story opens in the waters off North Carolina's Ocracoke Island. It's an especially good summer selection for middle-grade kids who claim they don't like to read. This one is sure to bring them around.
And you could win your very own copy of Sink or Swim! Just fill out the form at the end of this post. Deadline to enter: 11:59 PM, June 11, 2018.  (Multiple entries welcome! You can enter once a day from now 'til then.)
Steve has published nine novels for young readers and is working on his tenth. Formerly a professor at the University of Mary Washington and currently a yoga instructor while writing fiction, he lives in Fredericksburg, VA. He and I have spoken on author panels and run into each other at school librarian conferences, and today I'm happy to feature him and his books on my blog.
A.B. Westrick: Welcome, Steve!
Steve Watkins: Good to be here!
ABW: I loved Sink or Swim. The story hooked me right away, so let's talk about your first chapter. Openings are always tricky, and yours is pitch-perfect. It's 1942 and German U-Boats are picking off American vessels up and down the Eastern Seaboard. Twelve-year old Colton and his older brother Danny are fishing in small boats near Ocracoke Island when a U-Boat surfaces, catching Danny's nets, entangling his boat, and throwing Danny overboard. As Colton struggles to rescue Danny, the Germans laugh at the boys' distress. (I hated those Germans from the get-go.) It's a great scene.
Was that always your first chapter? How did you decide to begin the novel there? Continue reading →