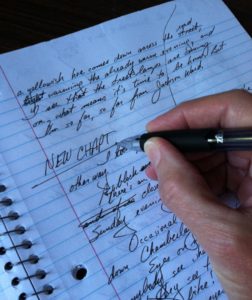 Last month I posted about endings, then tried my own suggestion: I wrote a possible final chapter. Once I had it, of course I had to write the scene that would come immediately before it. Then I wrote the scene before that one, and on back, scene by scene, until my ending scenes connected with the chapters I'd written from the beginning.
I had a complete first draft. Finally!
And it was fun to write the story backwards. It was freeing. It was crazy, loose writing—a lot of dialogue—and I admit that the manuscript is now a mess. But a first draft is done. The story now has a shape (an emotional arc) and the characters have come alive, and I can begin to dig deeper into scenes and add sensory details and check for continuity, etc.
The best part is that along the way, I had fun! I got a flow going. I gave myself permission to let go. To relax.  Continue reading →