The "StayAtHome order has affected all of us differently. How to stay focused? What to focus on? What really matters? I asked four authors how their writing was going during the COVID-19 quarantine, and this is what they had to say…

Rajani LaRocca
"Social distancing is difficult for everyone, and my day job as a doctor has changed overnight," says author Rajani LaRocca. "So during this challenging time, I'm trying to be extra kind to myself about writing. I love revising, so my required revisions are never a problem. But in terms of new writing/drafting, I'm giving myself permission to work on whatever I want, whatever gives me joy. So far, I've bounced between working on picture books, poetry, and dreaming up a couple of new novel ideas. I'm playing and not worrying about producing, and so far, it's working. When the world is chaotic, self-compassion is even more important."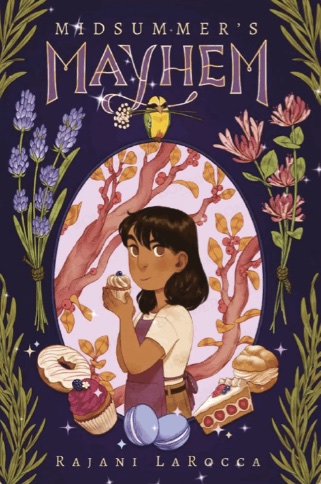 Rajani is the author of Midsummer's Mayhem, the story of Mimi, an eleven-year-old girl who dreams of winning a baking competition judged by her celebrity chef idol.
Can Mimi undo the mayhem caused by her baking in this contemporary-fantasy retelling of Shakespeare's A Midsummer Night's Dream?

Uma Krishnaswami
Author Uma Krishnaswami tells me, "I'm lucky. I don't live in an epicenter. I can handle daily inconveniences. But I'm writing as if fiends were on my tail, drafting a story about children in a world more broken than our own, even in this wounded time. I usually find novel writing to be laborious work, but this thing just keeps moving along. The emotions stirred by each day's news seem to churn up new pages. I know where the brokenness comes from, even if I don't know yet where it's going. For the moment, I'm just grateful I have this mirage to chase."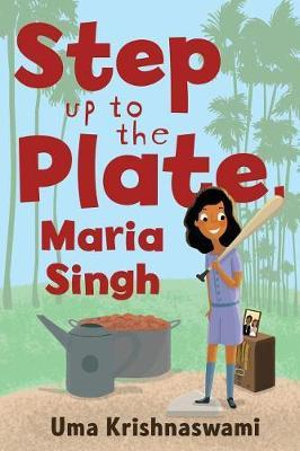 Uma has written many books for young readers, and her latest is Step Up to the Plate, Maria Singh. It's the story of nine-year-old Maria, who longs to play softball in the first-ever girls' team forming in Yuba City, California, in the spring of 1945.
When the family is on the brink of losing their farm, Maria must decide if she has what it takes to step up and find her voice…
Shauna Holyoak
"I've been sheltering at home with my family since March 16th, and it's definitely impacted my writing process," confesses author Shauna Holyoak. "Honestly, I have all the advantages. My two teenagers are self-managing their schooling (kinda, sorta) while my husband works from home. But I've struggled to quell my anxiety as it's increased with the duration of quarantine. So instead of putting unnecessary pressure on myself to keep up with pre-COVID-19 writing expectations, I've slowed my pace and tried to mix things up. Instead of pushing to finish my current middle-grade spooky work-in-progress, I've worked on a fictional podcast script and an online presentation for a writing conference. The shift has helped me find satisfaction in performing more manageable creative tasks as I also try to be more available for my family."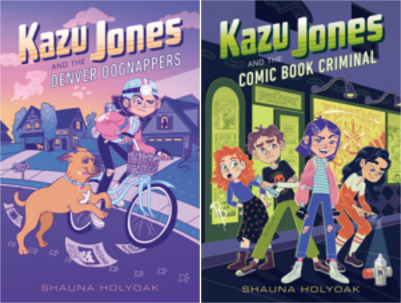 Shauna's Kazu Jones series features a spunky, scrappy fifth grade detective who's this generation's Harriet the Spy. Full of heart and high-stakes mystery, these are real page-turners. And Book Two in the series just came out this month!
Tina Athaide
"I am finding that the current isolation exaggerates everything—beauty of spring, terror and worry of COVID-19, and chaos of two educators and a high school daughter navigating unchartered waters of distance learning," says author Tina Athaide. "Through it all, I try and find time to sneak away into that workspace of mental solitude where I can interact with new characters struggling to figure out all the uncertainties of their own world and somewhere in all that craziness, I find peace."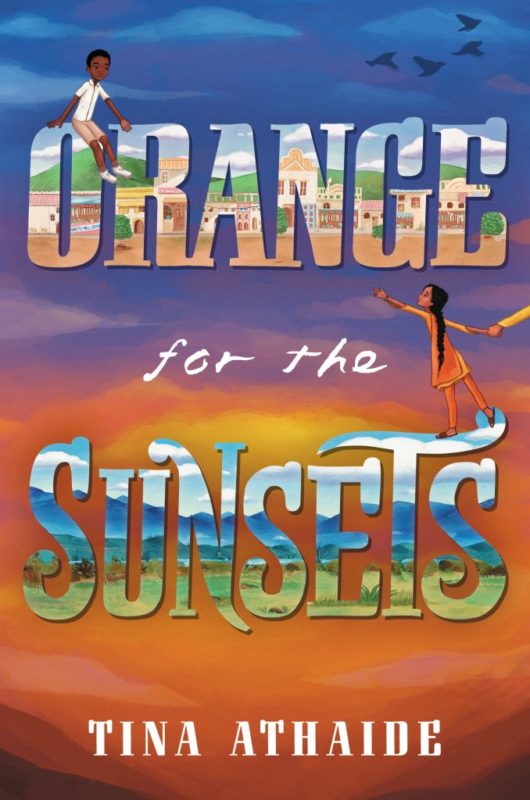 Tina's debut middle grade, Orange for the Sunsets, is the story of two twelve year-olds who never cared about the differences between them: Indian. African. Girl. Boy. Short. Tall. Asha and her best friend, Yesofu, have to sort out their friendship when Uganda's president Idi Amin announces that all Indians have ninety days to leave the country.
Next month, I'm posting an in-depth interview with Tina about her process in writing Orange for the Sunsets. Stay tuned! (There will be a giveaway!)
And meanwhile, tell me… how is your writing going?
My heart aches for people who've lost jobs (including one of my nieces) because of the pandemic, but I've loved hearing that water is now running clear through the canals of Venice and folks in New Delhi can once again see blue sky. Reports of the earth healing herself plus a sense that people are reading books during the quarantine help me focus on writing. But to reach my goal of 1,000 words a day, I've had to turn my wi-fi off. Many days I fall short of my goal, but in an effort to hold myself accountable, I track my word count. I like the pressure of having a goal to aim for.