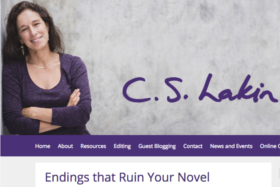 Once when I was young and read a novel with a fabulous twist at the end (I've forgotten the book, but I recall its effect), it hit me that the writer had to have known the ending all along. He'd planted clues throughout, but as a reader, I hadn't put two and two together until the end, and when I did, wow. The story blew me away. Remembering the title would be a bonus here, but my point is that on that day, although I was only in elementary school, my wow moment had to do with craft.
Shortly after recovering from that wonderful wow, I recall that I felt sorry for the author. Poor thing. When you know your ending up front, doesn't it spoil the story? Doesn't it ruin the enjoyment of reading it? Of writing it? And when I realized that all authors would have to know their endings while writing their beginnings, I felt sad for them. Why would anyone want to become a writer? Imagine having to spend all that time writing a novel when you already know up front what the ending will be. The anticipation is lost. How dull. Why bother?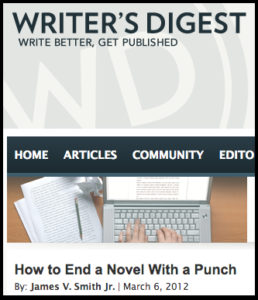 Okay, so I was a kid. I was impatient. I liked to write stories (nothing lengthy), and I never read books twice. As soon as I finished one, I was on to the next, excited to enter into a new world and find out how another set of characters would survive or thrive… or not.
As an adult I've developed lots of patience and have re-read plenty of novels, but the purpose of second go-rounds hasn't been entertainment. I've wanted to study how writers do what they do, how they invite readers to suspend disbelief, how they merge ordinary worlds into extraordinary ones, how they pick up the pace, how they hook readers and make us care.
While drafting this blog post, I've perused articles about how to write endings, and I've linked to two that I thought were good. Click on the images above to read the articles; Lakin looks at literary fiction and Smith (Writer's Digest) at commercial fiction. We've all heard that Margaret Mitchell wrote the last chapter of Gone with the Wind first, and according to this article, a number of successful authors, including John Irving and J.K. Rowling, have done the same.
In the month ahead, I'm going to take Lakin's and Smith's advice and draft an ending to my latest work-in-progress. I'm currently wallowing in the muddy middle, and it's hitting me that if I want any chance of getting out of the mud, I have to know how this story ends. Once I figure it out, once I see and hear what the characters do and say in the final scene, I suspect that my newfound knowledge will cause me to rewrite the opening, too. But hey, it's all good, right? It's all about loving the process.
Do you know how your current WIP ends?
Happy writing, y'all!