When I was a kid, I wrote letters. Real letters. By hand. Sometimes chain letters. Who has time for that anymore? (Besides the fact that stamps now cost 49 cents. Ouch.) I'll still send an occasional handwritten thank-you, but I stopped saying yes to every chain that came along… until Marci Rich tapped me to participate in this Writing Process one. An invitation to talk craft? Yes, ma'am!

Marci writes the award-winning Midlife Second Wife blog, which has gotten over 70,000 hits since she launched it in August 2011. So well-written, some of her posts have been picked up by The Huffington Post. (Here's her reflection on the death of Philip Seymour Hoffman.) So I'm honored Marci tapped me for this chain. And I'm thrilled to tap three more writers to keep the chain going: Mindy McGinnis, M.A. Hoak, and Laurie Morrison. Scroll down for more information about them and their writing!
And now… for the chain… here we go with the 4 questions:
(A) What am I working on?
I'm scrambling to complete the first draft of a new novel, scrambling because I promised my agent something in early April before I quite realized just how soon April would arrive. I made that promise three weeks ago when it was snowing in Virginia… again… and spring seemed unbelievably far away. At that point, I'd written thirty-seven chapters (well, fifty-something if you count the ones I'd scrapped), so you'd think I could wrap it up by April, right? But after I made the promise, it hit me that I didn't yet have a novel, and I kind-of freaked out. I had characters and a setting and a lot of stuff going on, but no unifying emotional arc that would hold it all together. Thinking about my promise made me break out in a pinkish rash. It itched. I did yoga to make myself chill out.
I went into step-back-and-mull-it-over mode. What desire was strong enough to drive the wayward plot? I'd already revised chapter one multiple times, and it wasn't working. It didn't set up the trajectory of the story—a tale about a group of boys at a summer program for gifted musicians. During my freak-out, I questioned the whole thing and feared I'd have to tell my agent, sorry, no can do.
Then I scrambled, and you know what? Deadlines are good. I'd started this novel last year, but when Brotherhood came out in the fall, I couldn't keep up my regular writing schedule. I was too busy with book release hoopla, then school visits. The April deadline helped me re-focus, turn down a few invitations, and postpone requests for editing services. Over the past month, the novel has started to come together. I think. Maybe. I might even make my arbitrary deadline. Not tomorrow (which—eeh gads—is April already), but soon.
(B) How does my work differ from others of its genre?
Broadly, my genre is YA, and within that, my current work-in-progress falls into the sub-genre of LGBT literature. In many LGBT stories, the protagonist comes to terms with his or her sexual identity or gender orientation, but my novel will differ in that my straight character will struggle with his homophobia. My first novel, Brotherhood, differed from others of its genre (Civil War historical fiction) by focusing on the aftermath of the war (period of Reconstruction) rather than the war, itself, and doing so not from the viewpoint of the Union, but from that of the defeated South.
(C) Why do I write what I do?
My first novel wrestled with racism, and now I'm wrestling with homophobia. The new one (as yet untitled) also addresses issues of faith, and includes characters who run the gamut from fundamentalist Christian to atheist. So to answer this question, I'd say that I love to write about stuff that interests me—stuff I like to talk about! And I especially enjoy writing for teenagers.
I often think about the fact that kids aren't responsible for their parents' views or mistakes or successes, or the way their parents sought to raise them. They're stuck. Or they're lucky. They're born or adopted into whatever family they're in, and they get what they get. Around the time kids hit middle school, they begin to separate from parents, question authority, and contemplate a future that is self-directed rather than parent-directed. And I wonder how they do that. How did I do it? How does a kid raised in, say, a prejudiced home, overcome those prejudices? How does a kid raised to follow his father's calling come to find his or her own? In some ways, maybe I'm still asking myself these questions, and I guess that's why I write what I do.
(D) How does your writing process work?
My process is messy, as you might gather from my answers above. I write to figure out my characters and what motivates them. I don't outline. I do pay attention to the details in a setting because until I have the physical qualities of a place and a sense of the time (year, month, day, hour), I have trouble making my characters take action. Once they're in a specific place, I listen to them. I watch them. I feel them. I try to inhabit them and experience their world vicariously. I put one character into another character's face and see what happens. I throw obstacles at them and duck when they throw things back.
In that sense, my writing process is something like method acting, except that I'm not finished when I've acted out a moment. I have to write it down. I have to describe the physicality of what just happened. The process is slow and messy and not exactly lucrative. But I love it, and I'd spend even more hours writing each day, if I weren't hampered by the bother of having to eat, sleep, wash, etc. Once I learned to embrace my messiness (thank you, Uma Krishnaswami, for helping me accept my process for what it is), I came to love it. My best days are the ones when I write for hours… and hours… and hours… uninterrupted.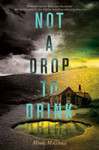 What are other writers' processes like? Stay tuned! This blog chain continues one week from today with posts from these awesome writers: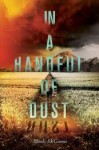 Mindy McGinnis is the author of Not a Drop to Drink and In a Handful of Dust, as well as being a full-time YA librarian. She and I met online last year through the "Lucky 13s," a group of debut 2013 authors who write for young readers. She blogs at Writer, Writer, Pants on Fire.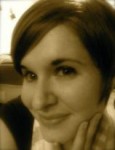 And talk about librarians! M.A. Hoak is a native Floridian (a relatively unknown species). She works as a Youth Library Assistant and spends most of her time up to her elbows in books, glitter, and glue. Her poetry has been published in The Saw Palm and Cantilevers Literary Magazine. She has an MFA in Writing from Vermont College of Fine Arts (where she and I met) and her debut novel is forthcoming. She blogs at The Loudmouth Librarian.

And talk about Vermont! That's where I also met the third writer I'm tapping for this blog chain. Laurie Morrison has an MFA in Writing for Children and Young Adults from Vermont College of Fine Arts and primarily writes contemporary YA fiction. She lives in Philadelphia, where she teaches middle school English, and loves to read and bake. She is represented by Sara Crowe at Harvey Klinger, Inc.
Leave a message to tell me about your writing process, and check out the blogs of these three writers to see how they approach their craft. Happy writing, y'all…