My debut novel will be released in 2013, so I applied for the SCBWI Book Launch Award—some extra funds to launch my book in an innovative way. And I won! SCBWI announced the winners yesterday afternoon, and I'm still processing the news. So excited!
But this blog isn't about tooting my horn. It's about craft—how to write more, write better, and fall in love with the process of writing. My hope is that the very activities I'll do to promote my novel will get me to engage with students and teachers in ways that will enhance my writing. Ways that will encourage me to ask what matters… why I write the books I write… why I write at all… how my writing might make a difference…
Part of the marketing proposal that won the award was this: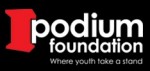 encourage students and teachers to use my book as a springboard to create their own "Making a Difference" audio recordings. Partner with The Podium Foundation, a Richmond (VA) nonprofit which holds writing clubs in Richmond's high schools; lead workshops in each club, guiding students to write, revise, rehearse and record stories of themselves or others making a difference, patterning stories after NPR's "This American Life"; post the MP3 recordings on my website and Podium's website.
While the students will be revising, rehearsing and recording their essays, I'll be listening. I look forward to meeting teens with ideas, strengths and issues that are new to me. I'm excited to hear a variety of stories… to listen… to engage… to encourage… to question… to learn from them and stretch my writing in new directions.
While much of my own writing is for myself (I write stories that speak intimately to me), I also write for a particular audience—for young readers. The greater my ability to listen to kids, the greater is the potential that my writing will engage them. For whom do you write? And how do you go about listening to your readers?