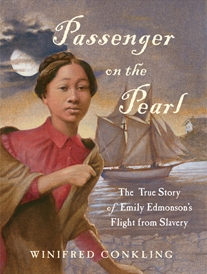 I met Winifred Conkling in 2009 when we were students in the MFA program at Vermont College of Fine Arts, and today I'm thrilled to feature her reflections on the craft of writing. Winifred is the award-winning author of numerous books and articles for adults and children, and her newest book, Passenger on the Pearl: The True Story of Emily Edmonson's Flight from Slavery, comes out today from Algonquin Young Readers.
A.B. Westrick: Winifred, welcome!
Winifred Conkling: Thank you for inviting me, Anne.
ABW: Passenger on the Pearl is a heart-wrenching story that hooked me on page one. I can tell from the sidebars and source notes that you researched the life of Emily Edmonson and her contemporaries extensively. So my first question is how you distilled down what must have been a mountain of primary sources, and decided to begin the story where you did (with Emily's mother's fears about bringing children into the world)?
WC: I always struggle with where to start a story. You're right, I started the process by reading piles of source material. I finally decided that the most natural way to frame the story was to focus on Emily's birth into slavery and to end with her marriage and the promise that her children would be born free. In my background reading, I was devastated by the quote from Emily's mother, Amelia, who had fallen in love but refused to marry, saying: "I loved Paul very much, but I thought it wasn't right to bring children into the world to be slaves." I am the mother of three, and I can't imagine what it would feel like to know that my children would be destined to face the horrors of slavery. I know that young readers are familiar with the idea of slavery, but I wanted to make the suffering personal. Continue reading →