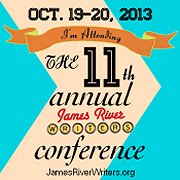 I was thrilled when James River Writers (JRW) asked me to interview Kathryn Erskine in advance of the JRW conference in Richmond, Virginia, October 19-20. Kathryn will be speaking on three conference panels, and on Friday, October 18, will lead a workshop entitled, "Getting in your Character's Skin." Kathryn is the author of numerous novels for young readers, including the 2010 National Book Award-winner Mockingbird. Her most recent novel Seeing Red was released by Scholastic in September 2013.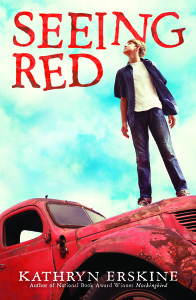 Welcome, Kathy! I'd love to talk with you about Seeing Red and the way you approach the writing of historical fiction. The story is set in the early 1970s and touches on all sorts of issues, from social unrest and the Vietnam War to racism, the women's movement, domestic violence, and bullies. In more than one scene, characters note that "the times, they are a-changing," a line from a Bob Dylan song that was popular at the time. Not only has the death of Red's father wreaked havoc on his nuclear family, but Red's family is in turmoil because the whole society is changing.
So my first question is: when you began this novel, did you begin with the character and later decide to set his story in the 1970's, or did the historical time period come first? What did you set out to write about, and how did it morph into the story that it became?
Kathryn Erskine: Characters always come to me first, but I knew Red was in the world of the early 1970's because of what he was seeing, what bothered him, what he cared about. What changed over time was a more direct approach to an issue I really wanted to address: racism in this country. When I first started this story years ago I was too tentative and only alluded to the problem. I finally gained the confidence as a writer to come out and say what I wanted. Some critics may not like it because it's raw and honest. But I don't write for praise (although praise is lovely!); I write to have people think about tough issues and talk about them. Continue reading →