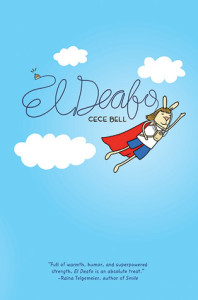 Author-illustrator Cece Bell is coming to the James River Writers conference in Richmond, VA, on October 18-19, and how lucky am I, that I got to interview her ahead of time!
She's the author of numerous books, including Rabbit & Robot, Bee-Wigged, Itty-Bitty, the Sock Monkey series, and more. She was awesome enough to mail me an advance-reader copy of her new novel-memoir El Deafo, just out this month from Amulet Books. Woot, woot, and welcome, Cece.​ I'd love to talk with you about the craft of writing…
A.B. Westrick: El Deafo is a great read! The story tugged on my heartstrings from the start, hooking me right in.
Cece Bell: Thank you so much for doing this interview, and for reading the book, and for saying you enjoyed it!
ABW: It's a great story. And my first question is about El Deafo's first chapter—a fabulous chapter. You let us glimpse your transition at age four from regular-kid to sick-kid, followed by this line (page 3): "I am pulled away from my parents… and taken to a room. Somebody sticks a needle in my back." The hook is both figurative and literal—ouch! Then your hospital roommate gets ice cream and you don't. Oh, the injustice!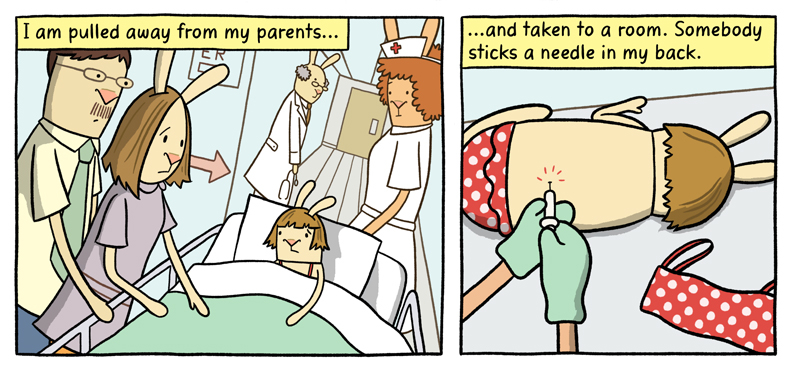 I get that you wanted to start the story at the point when your hearing loss started, but you did more than that. You dug deeply into the emotional truth of your situation. My questions are: (1) was that opening always your opening, or did you change it during the writing-and-illustrating process, and (2) what advice do you have for writers who struggle to tap into emotional truths? You're a master at it! Have you adopted any rituals or memory-tricks to help you resurrect what it felt like to be four… or five… or six years old?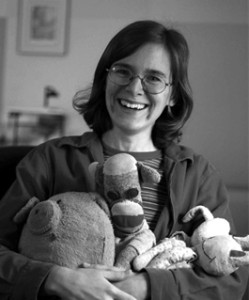 CB: So, to begin…
1. That wasn't always the opening. I was originally going to start the book during the moment that I realize that my very powerful school hearing aid is allowing me to hear my teacher wherever she is in the entire school building. The exact moment, in fact, in which I realize that I have superpowers. But it soon became apparent that none of that would make sense without the back story, the "origin" story. So I decided to start from the beginning. It's much better this way—it hooks the reader, as you say (the origin stories of comic book superheroes are the best part of comic books, in my opinion)—and it gets the hard stuff out of the way early, so the book can be opened up to more humorous things later. Continue reading →