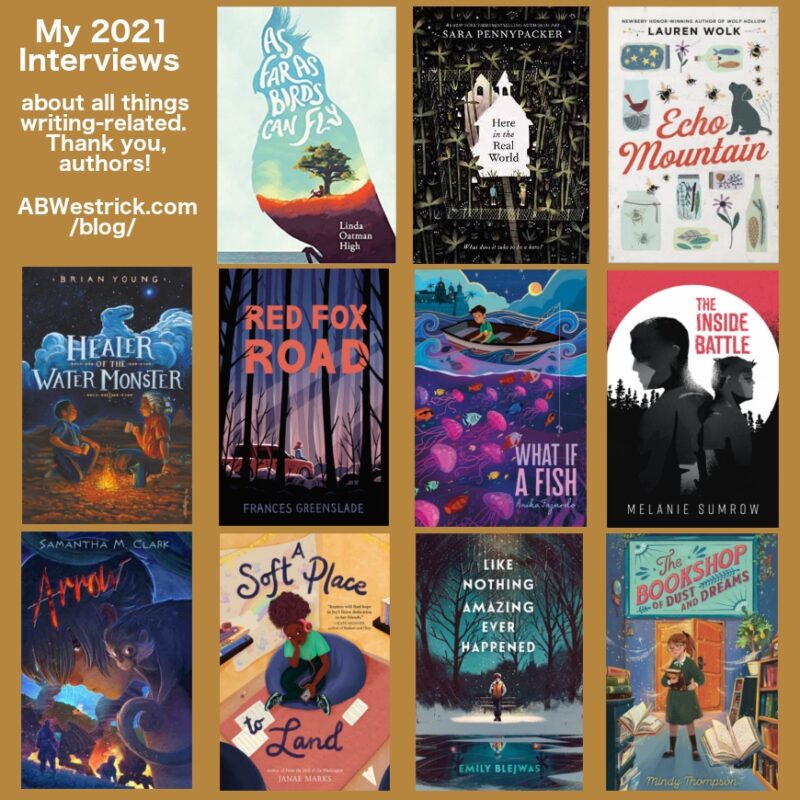 I love looking back on the books I read in 2021, authors interviewed, and craft-of-writing tips gleaned, such as…
how the right name for a character does a lot of heavy lifting for the writer invisibly (Sara Pennypacker, February '21);
how the "Save the Cat" approach to plotting a novel is a valuable tool (Linda Oatman High, January '21, & Samantha Clark, August '21) and the Pomodoro Technique can help writers stay focused (Mindy Thompson, November '21);
how when you're writing fiction, it's good to stay "in the moment, in the scene, in the story as it unfolds, as close to your protagonist as possible" (Lauren Wolk, March '21).
And more… so much more! It was such a joy to glimpse each author's unique process.
In 2022 I'll be interviewing more authors—and NEWS! The location for my interviews will change. Beginning in January, 2022, my author-interviews will be featured at MG Book Village.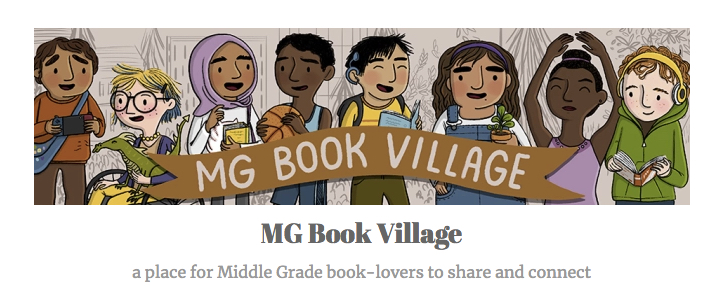 Why the change? Maybe it was the isolation of the pandemic lockdown, or maybe it was a sense that teamwork is more rewarding than going it alone. I'm not sure. I just know that by mid-2021, I was yearning for a new way to reach out and connect. And who are some of people I most enjoy connecting with? Why, middle-grade book lovers, of course!
MG Book Village features book reviews, author interviews, cover reveals, a book club, a kids' corner, and more. They're the energy behind weekly Twitter chats (#mgbookchat, 9:00 PM eastern). For years they've been bringing together writers, educators and readers in celebration of a love of all things middle-grade, and I'm thrilled and honored they've welcomed me in.  
Here on my monthly blog, I'll continue to offer craft tips and reflections on the process of writing. My wish/hope/dream for my readers is this: daily opportunities to slip away from the hustle and bustle of life in order to read, read, read, then do some writing. Write stories. Lots of stories. Because story is everything. As Frances Greenslade said in our April 2021 interview, "each of us lives by a narrative, whether we recognize it or not. It's the story we tell in our heads to explain ourselves." 

So write your story down. Write quickly. Write badly. Write for your eyes only. Later you can always revise your story, and if you feel so inclined, you can share what you've written.
The world needs stories. The world is waiting for stories. And there's no better to time write them than NOW.