I learn a ton when I interview my characters. Over the years, I've compiled a set of questions for them, such as…
What are your parents' expectations of you?
Where do you belong? Feel most at home?
What do you deserve? What are your inalienable rights?
What makes you feel worthy?
What sorts of circumstances unnerve you? Describe one.
Tell me about a defining moment in your life.
Etc., etc. It goes on for a bit. Author Gigi Amateau told me that she concludes her interviews with, "Hey [character], I'm here for you. What do you want from me? How can I help?"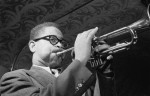 Last week I interviewed one of my characters, a teenage boy who has asked other kids at summer music camp to call him Dizzy Gillespie in honor of the great jazz musician. It was an awesome interview. The kid told me how he stands up to bully-types but feels nervous when he does, how his connection with a particular dog makes him think about reincarnation and parallel realities. I won't necessarily use these tidbits in the novel, but it's good stuff to know about him. He rambled and I listened, and my fingers flew fast over the keyboard.
When I ended with Gigi's question, he surprised me. Dizzy said, "You can help by writing me into more scenes. Get me out of the background and onto center stage. I'm the character who's bringing this story to life. Kids are going to read this book for me, and the sooner you recognize that, the better your book will be."
Wow. I had to smile. I love this guy! Up until now, Dizzy has been a strong secondary character—a force to reckon with—and his actions have done wonders for moving the plot forward. But he's not the protagonist. I've thought of him as laid back and cool, and haven't noticed how intensely competitive he is. Now I get that if he doesn't get his way, he'll try to steal every scene I put him in. He's dangerous, and I'm loving it. I'm having a blast writing this novel.
When was the last time you interviewed your characters?