I'm scared right now. Scared that I won't be able to write another novel, or at least, not one worth reading. Sure, I know that I can finish one—that I can sit for hours and days and weeks and months at a time with a handful of characters and a setting—I'm not scared about the discipline of the process. I love the process. (Ten years ago, the necessary discipline would have scared me, so at least I've made progress with the process…)
I'm scared about the content. The voice. The authenticity of the characters. Can I write a novel that keeps readers turning pages? One that matters? This past weekend I watched a movie that entertained me, but at times I could feel the writer trying too hard to make a scene work. He wanted to establish a character's motivation, create tension, get a laugh… and his presence took me out of the story. I fear that I make the same mistakes with my own writing, and the fear is blocking me from writing anything worthwhile.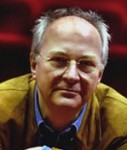 Will people read my books? Will they re-read them? I need to get past the self-doubt! I turned to interviews with prolific author Philip Pullman for advice, and found some here. About one of his own works-in-progress, he says, "I read it all again and think it's horrible, and get very depressed. That's one of the things you have to put up with."
In this pep talk to National Novel Writing participants, he says,
… page 70 is where the misery strikes. All the initial excitement has drained away; you've begun to see all the hideous problems you've set yourself; you are horribly aware of the minute size of your own talent compared to the colossal proportions of the task you've undertaken; that's when you really want to give up.
Then there are these words from an interview with Pullman at PsychCentral:
… don't listen to people (such as publishers) who think that you need to write what readers say they want. Readers don't always know what they want… So the only thing you need to do is forget about pleasing other people, and aim to please yourself alone. That way, you'll have a chance of writing something that other people WILL want to read, because it'll take them by surprise. It's also much more fun writing to please yourself.
Thank you, Philip Pullman! I needed to step away from my fiction to wrestle with my doubts and draft this post… needed to accept the depression and fear as part of the process. This part isn't fun, but I've said my piece and gotten it off my chest. Now I'm ready to dive back in. Come to think of it… I'm working on a scene in a chapter that's pretty close to page 70…