A few weeks ago I finished the first draft of a novel for 4th-5th grade readers, and set it aside (later I'll return with fresh eyes and revise). While in this lull between projects, I've devoured books and added a few titles to my Favorite Fiction lists. But I feel antsy. When I don't spend at least a couple of hours writing each morning, I get cranky. At the same time, the thought of beginning a new novel overwhelms me. I know how long and involved the process is. How much writing gets thrown out. How the characters have ideas of their own—ideas that don't always mesh with mine—and I have to be patient and listen, listen, listen.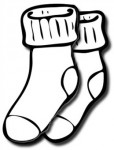 Right now I sense the seed of a new story, but it hasn't yet germinated. Like a burr in my sock, it's rubbing, and it feels good to scratch at it, but I know I have to let it rub me raw in order to get at the emotions, desires, secrets and fears that will drive the next novel. (Geez, why couldn't I have been born a comedian?)
I turn to my bulletin board of inspirational tips from faculty and trustees at Vermont College of Fine Arts:
I read and re-read these quotes, and I sigh and nod and free-write and day-dream and pace and say, "thank you." Thank you.