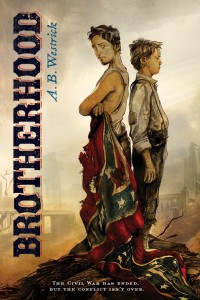 "A boy struggling to come of age in a ruined world reaches in all the wrong directions for being and belonging in this story that uncovers a trove of hidden history."
Richard Peck, Newbery-winning author of
A Year Down Yonder
"This story is about allegiances—between brothers, friends, Klansmen. Set in the South during one of our country's most trying times, post-Civil War Reconstruction, this novel gives us a crystal clear look at the costs exacted by allegiances and the dangers that they contain. This is a heart-stopping tale told through the eyes of Shadrach Weaver—a boy at the beginning of the story, but not by the end."
Kathi Appelt, Newbery Honor-winning author of
The Underneath
"A story about a difficult and often ignored time, told with honesty and grace.  An extremely impressive debut."
Kimberly Brubaker Bradley, author of
Jefferson's Sons
The year is 1867, and Richmond, Virginia, lies in ruins. By day fourteen-year-old Shadrach apprentices with a tailor and sneaks off for reading lessons with Rachel, a freed slave, at her school for African-American children. By night he follows his older brother to the meetings of a brotherhood, newly formed to support Confederate widows and grieving families like his. As the true murderous mission of the brotherhood—now known as the Ku Klux Klan—emerges, Shad is trapped between his pledge to them and what he knows is right. In this unflinching view of the bitter animosity that stemmed from economic and social upheaval in the South during the period of Reconstruction, it's clear that the Civil War has ended, but the conflict isn't over.
Cover illustration copyright (c) Greg Ruth 2013.
ISBN 978-0-670-01439-2
ON SALE: September 12, 2013
A huge thank-you to my agent, Leigh Feldman at Writers House, and editor Regina Hayes for seeing promise in this novel and helping me get it out into the world!
A Note about the Advanced Reader Copies (ARCs) of Brotherhood now circulating: after receiving early feedback that overuse of a few curse words might interfere with Brotherhood finding a home in schools, I removed those words from the novel. You'll see them in the ARCs, but they won't appear in the first printing, scheduled for release on September 12th. In some cases, I inserted alternate exclamations (such as "Lord" which we Southerners pronounce "Lawd"), and in others, I simply removed the offending words, as they weren't necessary to the flow of the story. I'd hate for teachers and parents not to encourage children to read Brotherhood because of the language! Of course, I had to retain the phrase "damn Yankees" in a few scenes because there's simply no way around it, and its inclusion helps in the delicate balance between historical accuracy, modern sensibilities, and age appropriateness.
Here's what another early reader had to say about Brotherhood:
"Westrick is… a master at setting. The reader is set firmly in post-Civil War Richmond, Virginia. She shows the conflict from the Southern perspective, one we rarely see. It's real, not sugar-coated or glossed over. This story and its characters will stick with you long after [you've finished] reading."
K. A. Barson, author of
45 Pounds