Last year I asked a friend if she'd collaborate with me on a novel, and she didn't say YES right away. She tilted her head and thought for a moment, clearly trying not to frown. "I don't know what this collaboration would look like," she said, and I said, "Me, neither! We'll have to make it up as we go along." Now three months and three chapters into the story, we're making up lots of stuff. This is the fun stage.
But what if we disagree over the way the story should progress? What happens when we have to revise? I started wondering how others have made collaborations work.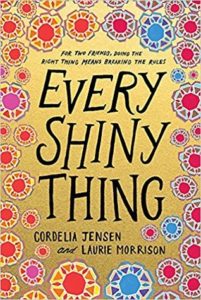 And that led me to co-authors Cordelia Jensen and Laurie Morrison. Their novel, Every Shiny Thing, came out from Amulet Books earlier this year. It's a great read—heartwarming and authentic—and I asked them to share some Do's and Don'ts and tips about collaborating. They said, "Sure!"
But before we get to the interview, hey, I'm giving away one copy of Every Shiny Thing! Hop to the end of this post. to enter the giveaway, and come back for the interview. Deadline to enter: Tuesday, Sept. 18, 11:59 PM.
A. B. Westrick: Welcome to my blog, Cordelia and Laurie!
Cordelia Jensen & Laurie Morrison: Thanks for inviting us!
ABW: I want to pick your brains about writing Every Shiny Thing. Help me out! I hope my colleague and I can craft a novel as engaging as yours.
Let's start with your process. You've told the story in alternating points of view, and I know from other interviews that Cordelia wrote Sierra's chapters and Laurie drafted Lauren's. Did you ever deviate from that set-up? Did you edit each other's drafts, and if so, how did that go? If one of you read something in the other's writing that didn't sit right with you, did you phone? Email? Text? Make a comment in the margin of your shared Google doc? Continue reading →