Click on the book cover for information about the book and author, and click here for the criteria I use to decide which books to put on this list.  More great-reads coming soon…
You think fairy tales are boring, right? You've heard them all already, and they're for kids younger than third or fourth or fifth grade, right? Think again. Do you like bloody stories? Stories of courage and bravery with twists and turns and a sprinkling of sarcasm and wit? Then stop reading this website and check out A Tale Dark & Grimm, but don't go into it blind. The author, Adam Gidwitz, tells you right up front—if violent and bloody things bother you, don't read this book. But if you've heard the tale of Hansel and Gretel already and think you can stomach the real version, well, here it is. Maybe. Or perhaps you have the real version and the world hasn't heard it yet. So try this. Read Adam's version, then email me at abwestick dot com and tell me your version. I'm all-ears. Or write the author, himself, at Adam at adamgidwitz dot com. He's probably all-ears, too.
In his Joey Pigza books, Jack Gantos captures the essence—the unbridled curiosity, creativity, impulsiveness and complexity—of boys with ADHD. Combine a big heart with irresponsibility, self-absorption and humor, and you get a zany character who isn't quite believable but somehow rings true. A lot of this book is laugh-out-loud funny and at the same time tender and poignant. Such a combination. So read-able. So compelling, especially for fourth-grade boys who don't like to read. I say—pick up a Joey Pigza book and tell me if a smile doesn't come up on your face.
Imagine
growing up in an apartment building beside a maximum security prison where the famous gangster, Al Capone, is locked up. Moose Flanagan lives there but gangsters are the least of his problems. Between the warden's scheming daughter and Moose's sister, whose behavior no one understands (nowadays she'd be diagnosed with autism, but in 1935 when this story takes place, that diagnosis didn't exist), Moose struggles to stay out of trouble. This is a great story followed by an interesting Author's Note about the prison on Alcatraz Island and the ordinary people who worked as guards and administrators there. And it's about autism.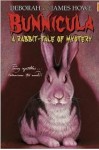 The people in the Monroe household have no clue what their animals are up to, and that's perfectly fine with the dog, Harold, as long as the treats keep coming. But when all the vegetables turn white and Chester, the cat, blames the pet rabbit, Bunnicula, Harold has a mystery to solve. A vampire bunny? Ridiculous. Really? If you like this one, there are lots of Bunnicula books, including Howliday Inn and The Celery Stalks at Midnight, to name only two. But you have to read this one first.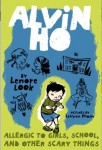 Second-grader Alvin Ho has the vocabulary of a fourth-grader and a fourth-grade brother, too, so the fact that he's only in second grade shouldn't make older kids hesitate to read this one. From the challenges of making friends and avoiding bullies to surviving chicken pox and piano lessons, Alvin does it all. Sometimes… gulp…he even has to deal with girls. Thank you to author Lenore Look for writing such a funny book. Alvin Ho: Allergic to Girls, School and Other Scary Things is the first in a fun series.